Source: Syfy
schedulebot
[
NOTE: Syfy schedule subject to change(s)
]
FRANKENFISH, ANACONDAS AND SHARKS! OH, MY! MOVIE MARATHON - SYFY: SCHEDULE SATURDAY, JUNE 16, 2012
09:00 AM
Frankenfish
Tongue-in-cheek horrorfest follows the carniverous trail of the genetically altered snakehead, a fish that's terrorizing a Louisiana bayou community.
Cast includes Tory Kittles, K.D. Aubert, China Chow, Matthew Rauch, Donna Biscoe, Tomas Arana,
NCIS'
Muse Watson and Raoul Trujillo.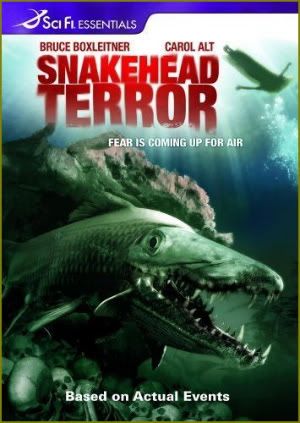 11:00 AM
Snakehead Terror
A small-time sheriff must cope with a town besieged by carnivorous land-walking fish when strange chemicals dumped in a nearby lake turn nature against mankind.
Cast includes
Babylon 5's
Bruce Boxleitner, Carol Alt, Chelan Simmons, William B. Davis, Doug Abrahams and
Stargate SG-1's
Gary Jones.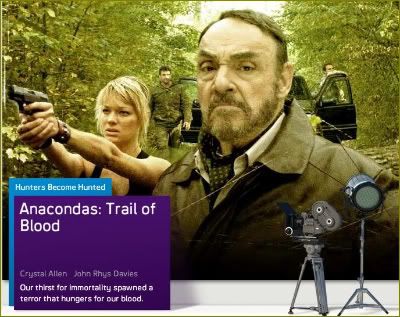 01:00 PM
Anacondas: Trail Of Blood
A genetically created Anaconda, cut in half, regenerates itself into two aggressive giant snakes, due to the Blood Orchid.
Starring Crystal Allen, Linden Ashby, Danny Midwinter, Ana Ularu, Claudiu Bleont, Anca-Ioana Androne and John Rhys-Davies.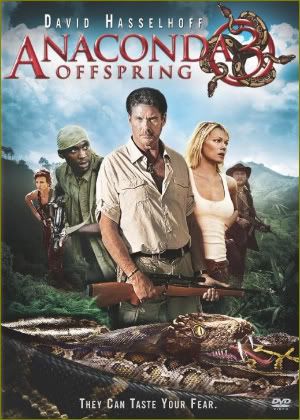 03:00 PM
Anaconda 3
A hunt for two massive snakes is launched following their escape from a research facility where their longevity was studied.
Cast includes David Hasselhoff, Crystal Allen, Ryan McCluskey, Patrick Regis, Anthony Green and John Rhys-Davies.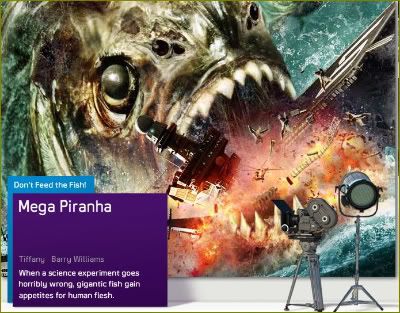 05:00 PM
Mega Piranha
Giant mutant piranha escape from the Amazon and head for Florida.
Cast includes Paul Logan, Tiffany, Barry Williams, David Labiosa, Jude Gerard Prest and Jesse Daly.
Watch a death scene from the Syfy Original Movie "Mega Piranha."
07:00 PM
Anaconda
Thriller about a documentary team that heads for the Brazilian jungle to search for a remote native tribe, but ends up fleeing from a giant snake Cast includes Jennifer Lopez, Ice Cube, Jon Voight, Eric Stoltz, Jonathan Hyde, Owen Wilson, Kari Wuhrer, Vincent Castellanos and Danny Trejo.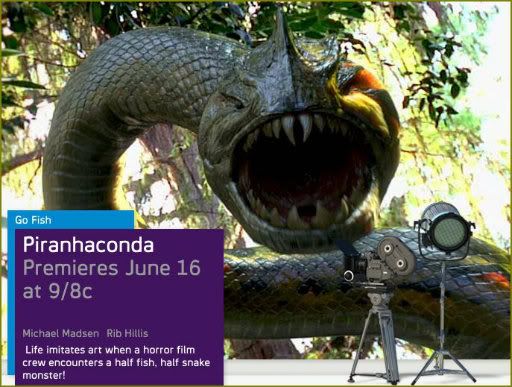 09:00 PM
Piranhaconda - Syfy Premiere!
A piranha-anaconda hybrid terrorizes a movie crew after a scientist steals an egg from the creature's nest. Cast includes Michael Madsen, Rachel Hunter, Shandi Finnessey, Teri Ivens, Rib Hillis, Chris De Christopher, Kurt Yaeger, Michael Swan and Christina
11:00 PM
Sharktopus
A scientist (
Eric Roberts
) working for the military develops a monstrous shark-octopus hybrid, which goes on a killing spree on the resort beaches of Mexico after the mechanism that controls the beast is accidentally destroyed. Cast includes Eric Roberts, Kerem Bursin, Sara Malakul Lane, Héctor Jiménez, Liv Boughn, Julian Gonzalez Esparza, Blake Lindsey and Peter Nelson. 01:00 AM
Piranhaconda
03:00 AM
Hammerhead: Shark Frenzy
A man-shark mutant tries to devour a trio of corporate types on a secluded island in this gory science-gone-wrong melodrama.
Cast includes William Forsythe, Hunter Tylo, Jeffrey Combs, Elise Muller, Arthur Roberts and G.R. Johnson.