Source:
Syfy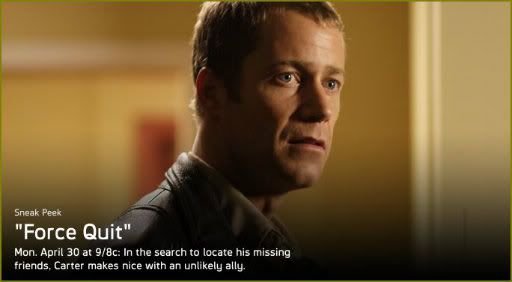 EUREKA - SYFY: 'FORCE QUIT' EPISODE TRAILER - AIRS MONDAY, APRIL 30, 2012
In the search to locate his missing friends, Carter makes nice with an unlikely ally. Eureka Monday at 9/8c.
Beverly Barlowe (
Debrah Farentino
) reveals that she has crucial information about the missing Astraeus crew, but Carter (
Colin Ferguson
) and Jo (
Erica Cerra
) are unable to determine whether they can trust her; the Astraeus crew is trapped in a dangerous land with beings seeking to destroy them.
Guest stars include Debrah Farentino, Trevor Jackson and Paula Lindberg.