Source: Syfy
schedulebot
HORROR MOVIE MARATHON - SYFY: SCHEDULE THURSDAY, APRIL 5, 2012
07:00 PM
Gothika
After an accident, a psychologist (
Halle Berry
) wakes up in a spooky penitentiary and learns she's accused of killing her husband.
Cast includes Halle Berry, Robert Downey Jr., Charles S. Dutton, John Carroll Lynch, Bernard Hill, Penélope Cruz and Dorian Harewood.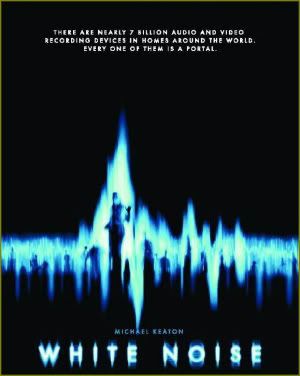 09:00 PM
White Noise
After his wife dies, an architect (
Michael Keaton
) becomes obsessed with contacting her spirit through the use of electronic equipment.
Cast includes Michael Keaton, Chandra West, Deborah Kara Unger, Ian McNeice, Sarah Strange, Nicholas Elia, Mike Dopud, Keegan Connor Tracy, Aaron Douglas and Mitchell Kosterman.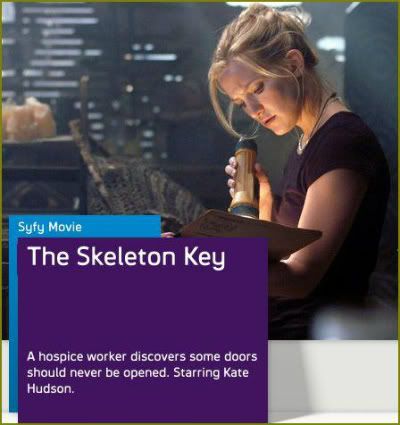 11:00 PM
The Skeleton Key
After New Orleans hospice worker Caroline (
Kate Hudson
) answers a help wanted ad, she finds herself working as the live-in caretaker of Ben Devereaux (
John Hurt
), a stroke victim who has lost his ability to speak. Ben's wife, Violet (
Gena Rowlands
), presents Caroline with a skeleton key to open any door in the house with the exception of one, which she claims she has never been able to open. But curiosity gets the best of her, and Caroline opens the door to find a wealth of materials representing the old house's history of hoodoo.
Cast includes Kate Hudson, Gena Rowlands, John Hurt, Peter Sarsgaard, Joy Bryant, Maxine Barnett, Fahnlohnee R. Harris and Marion Zinser.