Source: Syfy
schedulebot
SHARKFEST MOVIE MARATHON - SYFY: SCHEDULE FRIDAY, APRIL 6, 2012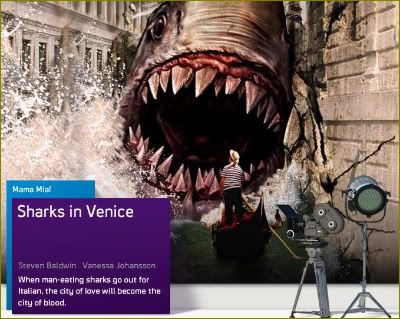 08:00 AM
Sharks In Venice
A great white shark menaces the waterways of Venice.
Cast include Stephen Baldwin, Vanessa Johansson, Hilda van der Meulen, Giacomo Gonnella and Ivaylo Geraskov.
10:00 AM
Shark Swarm: Part One
A corrupt developer (
Armand Assante
) tries to drive out residents of a small fishing village by dumping toxic waste in the water to stall the economy. But when the local sharks find their food source depleted, they begin attacking humans.
John Schneider
and
Darryl Hannah
star as a husband and wife who try to save the town from the sharks and the developer.
Cast includes Daryl Hannah, John Schneider, Armand Assante, F. Murray Abraham, Roark Critchlow, Heather McComb and Alan Fudge.
12:00 PM
Shark Swarm: Part Two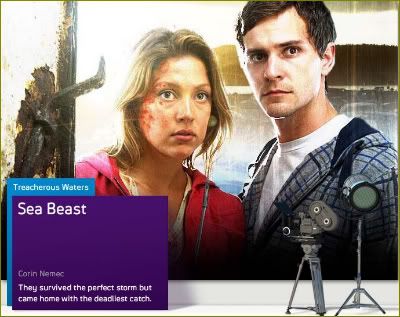 02:00 PM
Sea Beast
A small village unites in self-defense when a creature from the sea invades their fishing waters and threatens to destroy the town.
Cast includes
Stargate SG-1's
Corin Nemec, Miriam McDonald, Daniel Wisler, Camille Sullivan, Gwynyth Walsh, Brent Stait and Gary Hudson.
04:00 PM
Mega Shark Vs. Crocosaurus
A gigantic, immensely powerful shark does battle with a fierce primordial crocodile from Africa.
Cast includes Gary Stretch, Jaleel White, Sarah Lieving,
Star Trek: Voyager
/
Stargate Atlantis'
Robert Picardo, Gerald Webb, Dylan Vox, Hannah Cowley and Steve Mason.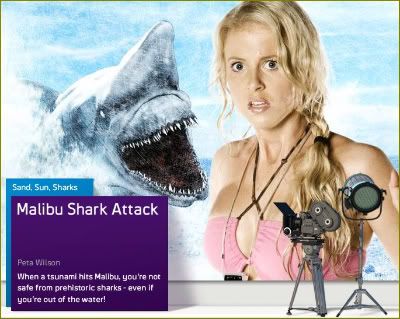 06:00 PM
Malibu Shark Attack
A tsunami brings goblin sharks to Malibu, CA, after a massive wave cuts lifeguards and construction workers off from dry land.
Cast includes Peta Wilson, Renee Bowen, Remi Broadway, Joel Amos Byrnes,
Alphas'
Warren Christie, Nicholas G. Cooper and Sonya Salomaa.