Source:
Syfy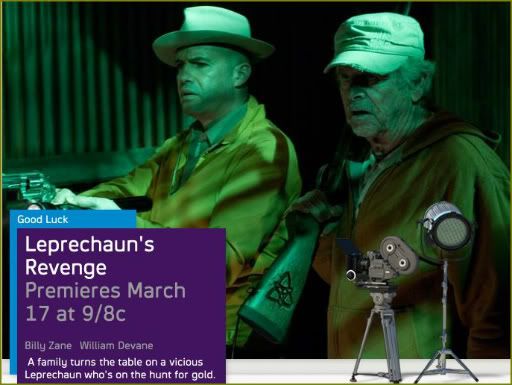 LEPRECHAUN'S REVENGE - SYFY: SNEAK PEEK # 2 - SILVER SHAMROCK - PREMIERES SATURDAY, MARCH 17, 2012 AT 9/8C
Watch a sneak peek from the upcoming Syfy Original Movie "Leprechaun's Revenge." Premieres Saturday March 17 9/8C.
An evil leprechaun who has been imprisoned within the roots of a majestic old oak tree, is accidentally set loose on St. Patrick's Day. Once free, he takes out his bloody revenge on the descendants of the people who originally imprisoned him.
Cast includes Billy Zane,
Stargate SG-1's
William Devane, Courtney Halverson, Kelly Washington, Azure Parsons, Kevin Mangold, Matty Ferraro, Karl Herlinger and Chase Boltin.