Source:
Paranormal Pop Culture
[follow link for complete interview]

PARANORMAL POP CULTURE: Kristen Hager talks non-monstrous job of 'Being Human'
by
Aaron Sagers
So you think transforming into a werewolf is ugly business? Try joining a new series as a recurring love interest/lycanthropic character originated by another actor on the British source material. As if that's not quite enough of a challenge for an actor, add in the fact that the showrunners for this re-imagined series plan to go in a completely different direction than the original show, and your character could get a silver bullet in any episode.
Still, as tough as that seems,
Kristen Hager
isn't concerned. Already an accomplished actor with film and TV credits including
I'm Not There
,
AVPR: Aliens vs. Predator - Requiem
,
Wanted
and the MTV vampire show
Valemont
,
Hager
is loving her new digs on the Syfy network's
Being Human
- werewolf changes, threat-of-death and all. Though she hasn't quite moved in and begun paying rent on the house of werewolf boyfriend Josh (
Sam Huntington
), vampire Aidan (
Sam Witwer
) and ghost Sally (
Meaghan Rath
), she is the show's fourth roommate as nurse Nora.
Similar to actress
Sinead Keenan
, Hager's counterpart on the British version of the show,
Hager
plays Nina as a suffer-no-fools smart-ass who manages to fit in with the menagerie of monsters quite well as a formidable foil. But
Hager
ups the level of sexy toughness with Nora, and her character arc in Season Two appears to focus on her anger and reluctance to join the crowd of the cursed - while also dealing with the joys of a supernatural pregnancy.
Paranormal Pop Culture caught up with
Hager
to talk about her role as Nora and joining the trio of actors for a second season filled with beastly action, as well as how she has managed to spend so much time in the paranormal world with aliens, zombies and cute vampires...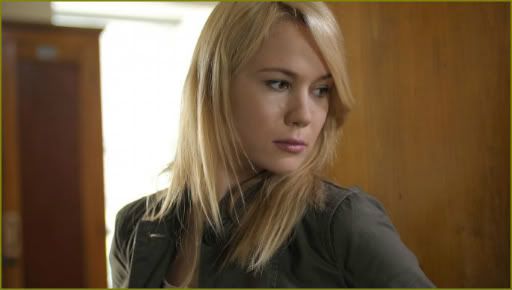 Kristen Hager as Nora from Being Human's 'All Out of Blood,' photo courtesy of Syfy
...
PPC: With Sam Huntington, he can tear off his shirt and then kinda do the incredible hulk thing and writhe on the ground. But you, as a woman on TV, have to cover things up a little bit more. So whose transformation is more difficult?
Kristen Hager
: "
The best man, Sam, hands down. He wins because of the fact that you can't really have me busting out of my shirt or ripping my shirt off all of the sudden, so even though I literally spent four hours with a prosthetic - with the prosthetic people ahead of time doing all the casting - I actually have the chest cast, and the back, and the face, etc. but because it's less exciting without my clothes ripping off, I really didn't have to wear as many of the prosthetic pieces as I got made. So he has it worse than me because he had to spend hours and hours and hours. Whereas I just really had cheeks, claws, and then the dots on my face when they do the CGI. That was pretty much the extent. I don't even know if I'm allowed to be saying this, but that's the extent of my transformation - which is great for me, but a lot of waking up in the nude in the forest. They definitely compensated by there being many, many wake-ups [after changing back]. Which is something they can show because you can place appropriate leaves in appropriate places...
"
Being Human season two airs Monday at 9/8C on Syfy.