Source: Syfy
schedulebot
EPIC JOURNEYS MOVIE MARATHON - SYFY: TUESDAY, DECEMBER 20, 2011
11:00 AM
Riverworld - Part One
Tahmoh Penikett
and
Alan Cummings
star in this adaptation of
Philip Jose Farmer's
novel about a group of people who die and awaken in a strange land covered almost entirely in rivers.
Matt (
Tahmoh Penikett
), an American journalist, and his fiancee, Jessie (
Laura Vandervoort
), are killed in an explosion, but reawaken in this unusual afterlife. Everyone who has ever lived on Earth has been resurrected simultaneously in this strange new world. Determined to find Jessie, Matt joins forces with an intrepid crew, including a 13th century female warrior and riverboat captain Mark Twain (
Mark Deklin
). As they embark upriver, their adventure begins, all the while tracked by the watchful eye of a mysterious alien force.
Cast includes
Dollhouse's
Tahmoh Penikett, Mark Deklin, Peter Wingfield, Jeananne Goossen, Alan Cumming,
V's
Laura Vandervoort, Chiara Zanni,
Battlestar Galactica's
Alessandro Juliani; and
Stargate
(SG1/SGA/SGU) alums Aleks Paunovic, Kwesi Ameyaw, Michael Adamthwaite, Alex Zahara, Terry Chen and Marilyn Norry.
01:00 PM
Riverworld - Part Two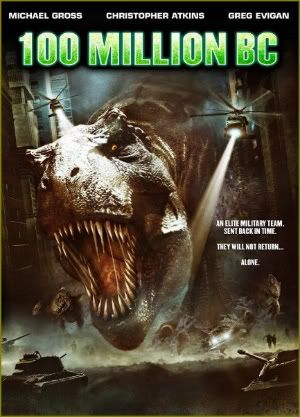 03:00 PM
100 Million BC
Soldiers go back in time to retrieve a team lost during the Philadelphia Experiment, and they inadvertently unleash a carnivorous dinosaur in modern Los Angeles.
Cast includes Michael Gross, Christopher Atkins, Greg Evigan, Marie Westbrook, Phil Burke, Wendy Carter, Geoff Meed and Stephen Blackehart.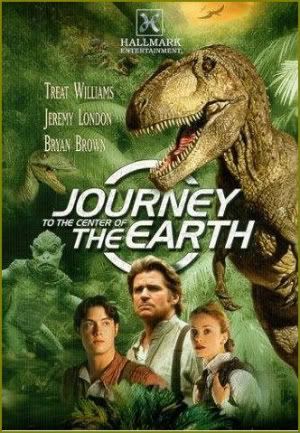 05:00 PM
Journey To The Center Of The Earth
Researchers become trapped under Earth's surface amid hungry, prehistoric monsters, and it's up to a team of drilling experts to save them.
Cast includes Treat Williams, Jeremy London, Tushka Bergen, Hugh Keays-Byrne, Bryan Brown, Tessa Wells, Petra Yared, Sarah Chadwick and Peter Kaa.
07:00 PM
The Postman
Kevin Costner
(who also directed) stars in this story about a wanderer who disguises himself as a postman in a post-apocalyptic town headed by a sadistic brute (
Will Patton
).
Cast includes Kevin Costner, Will Patton, Larenz Tate, Olivia Williams, James Russo, Daniel von Bargen, Tom Petty, Scott Bairstow, Giovanni Ribisi, Roberta Maxwell, Joe Santos, Ron McLarty and Peggy Lipton.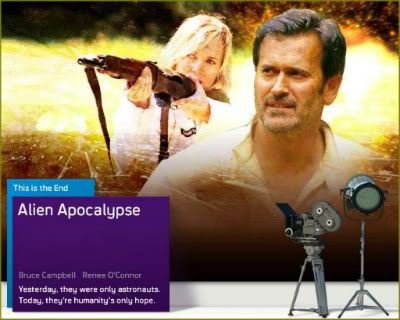 11:00 PM
Alien Apocalypse
Dr. Ivan Hood (
Bruce Campbell
) and his team of astronauts return from a decades-long mission and discover that Earth has been conquered and enslaved by aliens. With the help of a fellow scientist (
Renee O'Connor
), Hood plans a revolution to free humanity from its alien captors.
Cast includes Bruce Campbell, Renée O'Connor, Remington Franklin, Michael Cory Davis and Peter Jason.
01:00 AM
Heatstroke
An ex-model teams up with a soldier to thwart aliens who are propelling global warming to make Earth habitable for their species.
Cast includes D.B. Sweeney, Danica McKellar, Chris Cleveland, Kelly Rice and Zac Heileson.