Source: Syfy
schedulebot

31 DAYS OF HALLOWEEN - SYFY: SUNDAY SCINEMA MOVIE MARATHON OCTOBER 16, 2011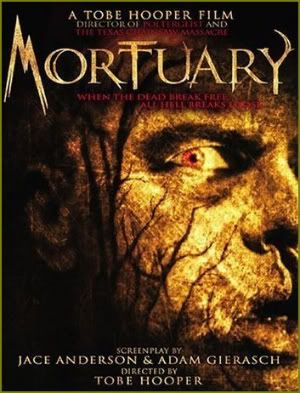 09:00 AM
Mortuary
Denise Crosby, Dan Byrd
and
Tarah Paige
star in this horror flick directed by
Tobe Hooper
about a family that takes over a decrepit funeral home.
Cast includes Dan Byrd, Denise Crosby, Rocky Marquette, Stephanie Patton, Alexandra Adi, Courtney Peldon, Bug Hall and Tarah Paige.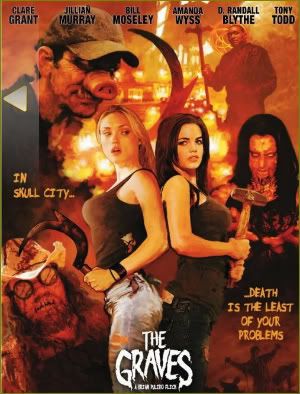 11:00 AM
The Graves
Two inseparable sister's visit to a remote mine town turns into a mind-bending fight for survival against menaces both human and supernatural.
Cast includes Clare Grant, Jillian Murray, Bill Moseley, Tony Todd, Amanda Wyss, Randy Blythe and Shane Stevens.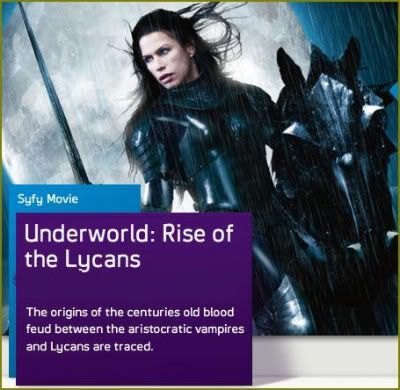 01:00 PM
Underworld: Rise Of The Lycans
A prequel to the first two Underworld films, this fantasy explains the origins of the feud between the Vampires and the Lycans. Aided by his secret love, Sonja (
Rhona Mitra
), courageous Lucian (
Michael Sheen
) leads the Lycans in battle against brutal Vampire king Viktor (
Bill Nighy
). Determined to break the king's enslavement of his people, Lucian faces off against the Death Dealer army in a bid for Lycan independence.
Cast includes Michael Sheen, Bill Nighy, Rhona Mitra, Steven Mackintosh, Kevin Grevioux, David Aston, Geraldine Brophy and Leighton Cardno.
03:00 PM
Fertile Ground
Expectant couple Emily (
Leisha Hailey
) and Nate Weaver move to a secluded home in New Hampshire and are haunted by a malevolent entity that takes possession of Nate and threatens to destroy their family.
Cast includes Gale Harold, Leisha Hailey, Chelcie Ross and Jami Bassman.
05:00 PM
Seconds Apart
Twins Seth (
Gary Entin
) and Jonah (
Edmund Entin
) begin using their psychic powers to kill their classmates. Later, they focus their murderous rage on each other and become locked in a diabolical fight to the death.
Cast includes Orlando Jones, Edmund Entin, Gary Entin, Samantha Droke, Louis Herthum and Morgana Shaw.
07:00 PM
The Task
Reality-show contestants encounter sinister spirits in an abandoned prison.
Cast includes Alexandra Staden, Victor McGuire, Adam Rayner, Antonia Campbell-Hughes, Ashley Mulheron, Amara Karan and Tom Payne.
09:00 PM
Prowl
Amber (
Courtney Hope
) and her friends become prey for a hungry pack of flesh-eating creatures after they accept a ride from a trucker, who takes them to an abandoned warehouse to be hunted.
Cast includes Ruta Gedmintas, Joshua Bowman, Perdita Weeks, Jamie Blackley, Courtney Hope, Saxon Trainor and Bruce Payne.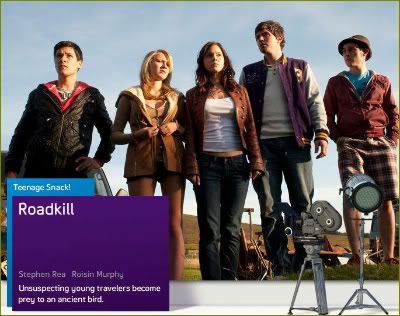 11:00 PM
Roadkill
Six young friends on a road trip in Ireland run afoul of gypsies who curse them for accidentally running down an old woman. The curse takes the form of a terrifying flying beast that tries killing them all.
Cast includes Eliza Bennett, Stephen Rea, Kacey Barnfield, Colin Maher, Ned Dennehy, Diarmuid Noyes, Eve Macklin and Kobna Holdbrook-Smith.
01:00 AM
The Messengers
Semi-creepy chiller about ghosts haunting a teen (
Kristen Stewart
) who has moved from Chicago to rural North Dakota with her family.
Cast includes Kristen Stewart, Dylan McDermott, Penelope Ann Miller, John Corbett, Evan Turner, William B. Davis and Jodelle Ferland.
03:00 AM
The Dunwich Horror
Opposing parties seek the missing page of a sinister book in this adaptation of the H.P. Lovecraft tale.
Cast includes Griff Furst, Sarah Lieving, Dean Stockwell (who also co-starred in the 1970 movie version), Jeffrey Combs, Natacha Itzel, Lauren Michele and Shirly Brener.