Source: Syfy
schedulebot

31 DAYS OF HALLOWEEN - SYFY: STEPHEN KING MINI-SERIES MARATHON TUESDAY, OCTOBER 18, 2011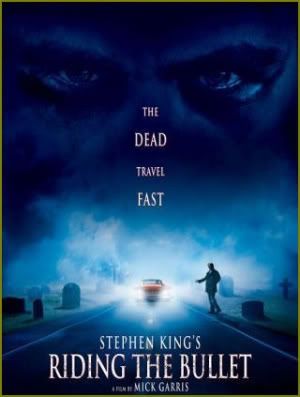 09:00 AM
Stephen King's Riding The Bullet
A hitchhiker's trip across Maine turns deadly when he gets a ride from an ominous stranger, who forces him to face his demons and fears.
Cast includes Jonathan Jackson, David Arquette, Cliff Robertson, Barbara Hershey,
Eureka's
Chris Gauthier and Matt Frewer,
Stargate Universe's
Haig Sutherland and
Battlestar Galactica: Blood and Chrome's
Ben Cotton have brief appearances as rally students.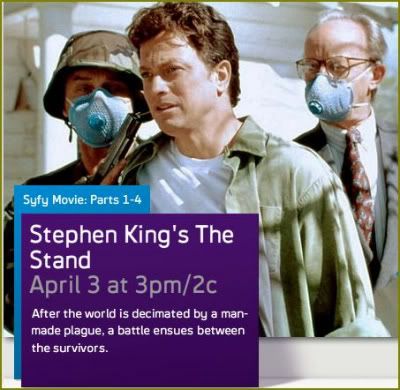 11:00 AM
Stephen King's The Stand - Part One
A government-run biological warfare lab accidentally spreads a lethal virus that eradicates the world's population; as survivors try to restore civilization, they follow mystical leaders that lead them into a final battle between good and evil.
Cast includes
CSI: New York's
Gary Sinise, Molly Ringwald, Jamey Sheridan, Ruby Dee, Miguel Ferrer,
Stargate SG-1's
Corin Nemec, Rob Lowe, Laura San Giacomo, Ossie Davis, Matt Frewer and Ray Walston.
01:00 PM
Stephen King's The Stand - Part Two
The survivors of the virus begin to encounter one another and start their respective treks to meet Mother Abigail---or Randall Flagg.
03:00 PM
Stephen King's The Stand - Part Three
Mother Abigail's clan sets up a base of operations in Colorado and creates a governing board, which decides to send spies to Randall Flagg's headquarters.
05:00 PM
Stephen King's The Stand - Part Four
Mother Abigail's group heads west; Nadine suddenly turns against Flagg, and others soon join her.
07:00 PM
Saw II
Dull-edged sequel to the 2004 hit picks up with the sadistic serial killer once again putting his victims in horrific life-or-death situations.
Cast includes Tobin Bell, Shawnee Smith, Donnie Wahlberg, Erik Knudsen, Franky G, Glenn Plummer, Emmanuelle Vaugier and Dina Meyer.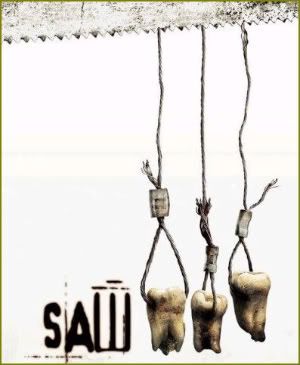 09:00 PM
Saw III
Jigsaw kidnaps a doctor to keep him alive while he watches his new apprentice put an unlucky citizen through a brutal test.
Cast includes Tobin Bell, Shawnee Smith, Angus Macfadyen, Costas Mandylor,
Blue Blood's
Donnie Wahlberg, Dina Meyer, Leigh Whannell and Mpho Koaho.
11:30 PM
Saw IV
Jigsaw may be dead, but Tobin Bell is mysteriously back in this fourth installment in the popular Saw series in this sequel that exlpores the killer's origins.
Cast includes Tobin Bell, Costas Mandylor, Scott Patterson, Betsy Russell, Lyriq Bent,
Stargate Universe's
Louis Ferreira,
Blue Blood's
Donnie Wahlberg, Angus Macfadyen and Dina Meyer.
01:30 AM
Phantom Racer
A possessed race car menaces a driver-turned-trucker (
Greg Evigan
) who feels responsible for the death of the car's driver.
Cast includes Nicole Eggert, Greg Evigan, Brenna O'Brien, Winston Rekert, Chad Willett and Luciana Carro.