Source: Syfy
schedulebot

WAREHOUSE 13 - SYFY: SEASON THREE TWO-HOUR FINALE AND MARATHON - MONDAY, OCTOBER 3, 2011
11:00 AM
The New Guy
A rock legend's guitar becomes a menace in Jersey City, N.J., and Artie and Claudia run into an ATF agent who has a knack for knowing when people are lying in the Season 3 premiere.
Aaron Ashmore
joins the series.
Guest stars include Nikki Grant, Aaron Ashmore, Jaime Murray and Angelica Lisk.
12:00 PM
Trials
Pete and Myka are on the case when witnesses in a murder trial begin to quickly lose their memories; Claudia is tasked with pursuing a thief who may be using an artifact for good purposes.
Guest stars include Faran Tahir, Jason Blicker, Trevor Blumas, Joanna Douglas, Steven Yaffee, Wendy Lyon, Guy Bannerman and
Stargate Universe's
Jeffrey Bowyer-Chapman.
01:00 PM
Love Sick
Dr. Vanessa Calder (
Lindsay Wagner
) reunites with Artie for a case that requires some help from Calder's ex-flame; a mystery lands Pete and Myka in bed while Steve is missing.
Guest stars include Christopher Cordell, Lindsay Wagner, Bernadette Couture, Susan Horton, Anthony Lemke, Simon Northwood and Jeri Ryan.
02:00 PM
Queen For A Day
Pete's ex-wife arrives in town to remarry, but an artifact may derail the wedding; Steve and Claudia visit a Civil War reenactment in search of an artifact.
Guest stars include Aaron Ashmore and Jeri Ryan.
03:00 PM
3 . . . 2 . . . 1
Pete, Myka and H.G. Wells track Joshua's Trumpet, an artifact that has eluded three generations of Warehouse agents, which now may pose a threat to a packed baseball stadium.
Guest stars include Jaime Murray, Scott Anderson, Aaron Ashmore,
Torchwood's
Gareth David-Lloyd, Andrea Drepaul and Johnny Larocque.
04:00 PM
Don't Hate The Player
Fargo becomes trapped in a video game inspired by
Warehouse 13
and requires help from Pete, Claudia and Myka. Meanwhile, Stukowski [
Ashley Williams
] recruits Artie and Steve to help with a case, and catches them stealing an artifact.
Guest stars include
Eureka's
Neil Grayston,
Caprica's
Sasha Roiz, Ashley Williams, Aaron Ashmore and Steven Yeun.
05:00 PM
Past Imperfect
After Myka encounters the man responsible for the death of her former partner in the Central Intelligence Agency, she recruits her old team and engages in a manhunt for the elusive criminal; Artie gains a four-legged companion.
Guest stars include J. August Richards, Gabriel Hogan and Yancey Arias.
06:00 PM
The 40th Floor
Stukowski is interrogated by Warehouse agents after they learn she was using artifacts to kill regents, who are the secret protectors of the Warehouse. Pete and Claudia seek out Stukowski's partner-in-crime amid a crisis involving three regents; Steve is provoked into crossing the line.
Artie and Myka set out to save a group of regents, but they instead find themselves trapped inside a building that is being disintegrated by an artifact; Mrs. Frederic tries to convince Stukowski to talk by employing questionable tactics.
Guest stars include Aaron Ashmore, Andrew Jackson,
Star Trek Voyager's
Kate Mulgrew, Ashley Williams,
Caprica's
Sasha Roiz and Faran Tahir.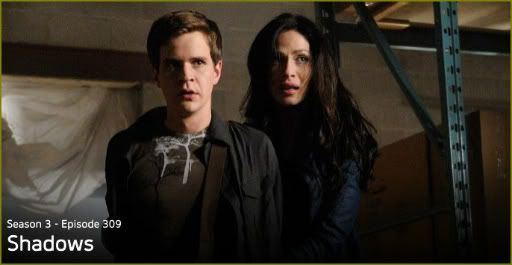 07:00 PM
Shadows
Pete has an uneasy reunion with his mother while he investigates the Regent murders by entering into her memories; Myka and Claudia encounter one of the deadliest artifacts yet while looking into a string of mysterious disappearances
Guest stars include Kate Mulgrew, Scott Edgecombe, Karen Ivany, Ashton Doudelet, Mark Ramsay and
Caprica's
Alessandra Torresani.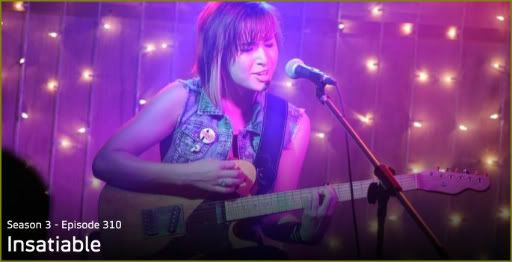 08:00 PM
Insatiable
Myka and Pete attempt to find the cause of a number of people turning crazed and ravenous; Claudia grows anxious after a fortune-telling machine predicts her death at the end of the day; Steve Jinks receives an appealing offer.
Guest stars include Sasha Roiz, Genelle Williams, Aaron Ashmore and ... Zombies?
09:00 PM
Emily Lake/stand
(2hrs) -
Season three finale!
11:00 PM
Emily Lake/stand
(2hrs)
Pete and Myka investigate the theft of a top-secret file from the warehouse, which brings them to a high school in Wyoming, where H.G. Wells is working as a teacher named Emily Lake.
Guest stars include Kate Mulgrew, Jaime Murray, Sasha Roiz, Aaron Ashmore and Anthony Michael Hall.