Source:
MSN TV
[follow link for complete column]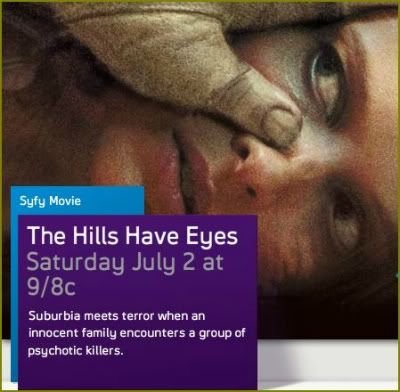 MSN TV: Tonight's Picks Saturday, July 2, 2011
...
The Hills Have Eyes
9:00 PM, SYFY
The critics have eyes, too, and many of them didn't find much worth seeing in this 2006 remake of director
Wes Craven's
horror cult classic -- even though Craven produced it. En route to California, a family makes the ultimately unfortunate decision to travel through a desert region that was used for nuclear testing years ago. The offspring of miners who never left the area have grown into dangerous mutants. Unless your main reason for watching a horror movie is over-the-top gore, you're better off with the 1977 original.
For the July 2, 2011 Syfy movie schedule click
here
.