Source:
Poptimal
[follow link for complete Q & A]
EUREKA - POPTIMAL: Q&A with Colin Ferguson and Salli Richardson-Whit
field
July 1, 2011
by Keshaunta Moton
It's time for the return of SyFy Network's longest scripted drama, and as season 4.5 of
Eureka
is gearing up I had the chance to attend a Q&A conference call with stars
Colin Ferguson
and
Salli Richardson-Whitfield
. Over the course of the call the two discuss, among other things, what's in store for fans in the upcoming season, their past experiences at Comic-Con, as well as the relationship between Zane and Jo.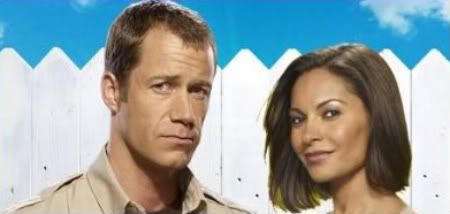 .. When asked how she compares to her character Allison Blake on the TV series, Richardson-Whitfield says that, to her, their similarities seem to grow over the seasons. "
I'm not as hard or as tough as I may seem
," and this is something that the characters of Eureka are now finding out about Allison, whose main vulnerabilities include being a mother and having to juggle work around family life. This is a plight that Richardson-Whitfield can relate to intimately as the show films in Vancouver and causes her to be away from her children while they are filming....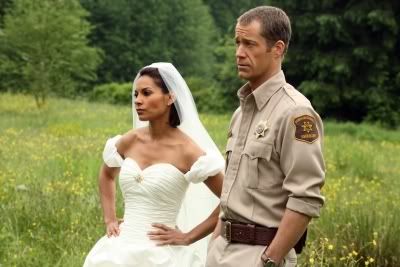 ... It took four long years, but at the end of
Eureka
4.0 Allison and Jack were a couple. (Oh yeah.) But as anyone knows, getting together is worlds easier than staying together and making it work. And for Jack and Allison, they're in the work it out phase. And Richardson-Whitfield reveals that for these two trying to work out a relationship while also working together is their biggest challenge, "
It's like working with your husband or wife, how do you balance those two things?
" Ferguson reveals that for Jack the challenge is learning to give Allison her space in order to maintain their relationship. And it's a challenge that Jack's more than willing to face, but what happens when Jack gets a curveball thrown his way? "
There are still bucks and problems to come...
"
Eureka premieres on a NEW night, Monday, July 11, 2011 at 8/7C on Syfy.