Source:
Leo Awards
(Vancouver, BC, Canada)
[NOTE: The Leo Awards is British Columbia's local film industry awards]
Click here for a full list of the
Sanctuary
nominations.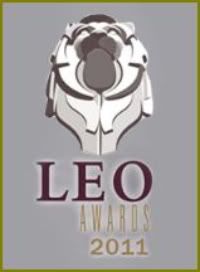 On Wednesday, June 8, the Leo Awards held the awards ceremonies for those nominees in the technical and crafts categories.

Sanctuary
won their nominations for:
Best Overall Sound in a Dramatic Series
Jean Tejkel, Kevin Sands, Hugo de la Cerda, Kevin Belen
Sanctuary
-
Kali 3
Best Costume Design in a Dramatic Series
Christina McQuarrie
Sanctuary
-
For King and Country
Other award recipients on Wednesday night included:

Best Production Design in a Dramatic Series
Ian Thomas, Bobbi Allyn, Peter Andringa
FRINGE
-
Marionette

Best Visual Effects in a Dramatic Series
Ivan Hayden, Grant Lindsay
Supernatural
-
Hammer of the Gods
Congratulations to all the 2011 Leo Awards nominees!
The Leo Gala Awards Ceremony is schedule for Saturday, June 11, 2011.