Source:
Guardian
(UK) [follow link for complete interview]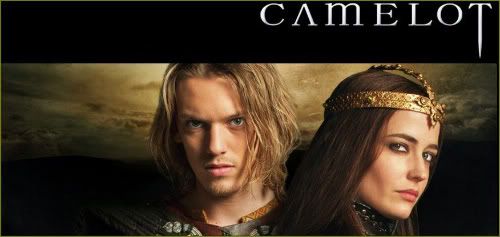 CAMELOT = GUARDIAN (UK): Eva Green interview: Playing evil
Eva Green rose to fame as the Bond girl who won the heart of 007 in Casino Royale. Now she's back in more familiar territory as the elemental, mysterious Morgan in Camelot, she tells Elizabeth Day – dabbling in witchcraft and reinventing nudity...
by Elizabeth Day
Sunday 5 June 2011
It is a sunny, blue-sky day when I meet the actress
Eva Green
. The London streets are peppered with cherry blossom and the heady scent of fake tan hangs thickly above the city like ozone. It is a day for white linen and flowing dresses and flip-flops. But when Green arrives, it is clear that she is not embracing the joys of spring time. Her tiny frame is swathed in black and dark grey and she is wearing a heavy coat over a lace blouse, jeans and boots. The pale flawlessness of her face is accentuated by jet-black hair and smudged eye-shadow the colour of coal dust. The overall effect is rather striking: a cross between Miss Havisham and an astonishingly beautiful extra from
Twilight
.
"
I have a dark side in the way I think everybody has
," Green says, taking off her sunglasses. She orders a disappointingly tame berry smoothie rather than a cup of virgin's blood. Yet she acknowledges that, professionally speaking, she is drawn to roles that are "
evil but damaged. It's fun to play evil". She looks at me calmly with blue eyes. "I like characters that have secrets. It's nice not to know it all. Complex is interesting
..."
... But Green's latest role remains true to type: she plays Morgan, the feisty, power-hungry half-sister of King Arthur in Channel 4's forthcoming mini-series Camelot. As it is produced by the same team behind The Tudors, viewers can look forward to the Arthurian legends being glossily re-worked with lots of heaving bosoms, macho sword-play and fetchingly designed velvet robes. Green herself gets an energetic sex scene with James Purefoy in the first episode.
"We filmed that sex scene in the morning. I was like, 'Oh my God, I'd like to have a drink. Could we not do it at the end of the day?' But the sex scene is for a reason. It's a fight for power.
"Actually it's very interesting," she continues, "because the Pagan women were strong, empowered and not afraid to be sexual. They used to celebrate nature and sexuality. When Christianity arrived, it became a bit taboo."
She threw herself into research for the part, dabbling in Wiccan magic – "It's not like Walt Disney" – and consulting a shaman, who told her the animal she most resembled was a crane. "I said: 'What – I'm not a tiger?'" she laughs. "Actually I'm probably most like a black poodle."
She was attracted to Morgan because, unlike the majority of mainstream female movie roles on offer, "it's not a girlfriend role… she's strong, she has more courage than most men. She's not afraid at all..."
In the UK, amelot starts on 11 June on Channel 4 at 9.20pm.
In the US, the season one finale, "Reckoning," airs Friday, June 10, 2011 on Starz.