Source: Syfy
schedulebot
[NOTE: As always, schedule is subject to change]
EDIT: Updated April 29, 2011
SANCTUARY - SYFY: May 2011 Schedule
NEW EPISODES
May 2 10:00 PM
Metamorphosis
May 3 12:00 AM
Metamorphosis
May 9 10:00 PM
Wingman
May 10 12:00 AM
Wingman
May 16 10:00 PM
Awakening
May 17 12:00 AM
Awakening
May 23 10:00 PM
Normandy
May 24 12:00 AM
Normandy
An adventure set in WWII has Magnus joining up with the French Resistance on the eve of D-Day to stop the Nazis from using a device that controls the weather.
Guest stars include Peter Wingfield, Vincent Gale and Erin Lacourciere.
MINI-MARATHON - SEASON 3.5 EPISODES - MAY 2, 2011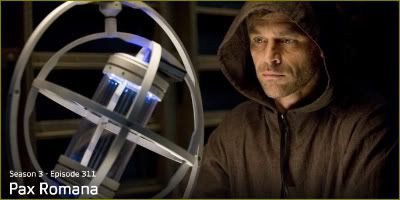 03:00 PM
Pax Romana
For trespassing in Praxis, the team is sentenced to death, but Ranna needs Magnus to gain insights into Adam and the tremors that are affecting the city. Elsewhere, Druitt contends with cannibalistic creatures.
Guest stars include Ian Tracey, Polly Walker, Jody Thompson and Jim Byrnes.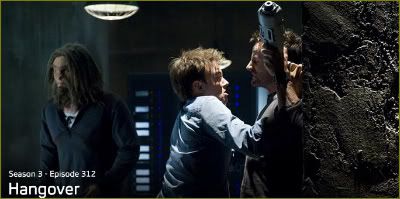 04:00 PM
Hangover
Magnus returns to a disheveled Sanctuary just hours before it is to be inspected by the chief of a UN security team. She first encounters a battered Henry, who claims he was attacked by Will, and learns that Bigfoot is missing.
Guest stars include Francoise Yip.
05:00 PM
One Night
A dinner date goes awry for Will and Abby when they are abducted at gunpoint on their way to a restaurant. Magnus puts a halt to the team's rescue operation upon determining the identity of their abductors, leaving Will and Abby's survival in their own hands.
Guest stars include Tinsel Korey and Pascale Hutton.
MARATHON - SEASON TWO EPISODES - MAY 10, 2011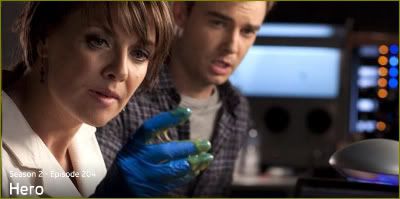 08:30 AM
Hero
Magnus traps a superhero (Christopher Gauthier) whose lack of finesse affects the team's work. Elsewhere, the discovery of an eggshell remnant puts Will and Declan (Robert Lawrenson) on the hunt for a creature that's loose in the city.
Guest stars include
Eureka's
Chris Gauthier, Shayan Bayat, Timothy Paul Perez and Robert Lawrenson.
09:30 AM
Fragments
Magnus tries to save a research scientist's life after a seemingly docile abnormal attacks. Henry tries to determine why the domesticated creature turned violent.
Guest stars include Anne Marie DeLuise,
Stargate SG-1's
Colin Cunningham and Mandy May.
10:30 AM
Veritas
Amanda Tapping directs this episode, in which Will tries to defend Magnus from the heads of the Sanctuary Network after they accuse her of committing a shocking murder.
Guest stars include
Eureka's
Erica Cerra, Colin Lawrence, Robert Lawrenson, John Paul McGlynn, Sandy Robson and Michael Challenger.
11:30 AM
Next Tuesday
Magnus and Will try to retrieve a sea creature from the coast of Louisiana, but the Abnormal breaks lose in mid-flight, resulting in a crash landing that imperils the duo.
Guest stars include Richard Zeman.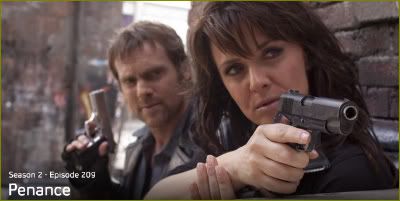 12:30 PM
Penance
Magnus must come to the rescue of an old friend (Michael Shanks) when an underground mob interrupts the shipment of an Abnormal to the Sanctuary, and Kate proves her worth by taking a gunshot wound for the team.
Guest stars include
Stargate SG-1's
Michael Shanks, Aleks Paunovic, Jason Bryden, Leslie Woolman and Dean Redman.
01:30 PM
Sleepers
Magnus and Will investigate the disappearances of teenagers who sought treatment at an exclusive rehab facility in Mexico, where they learn that a sinister plot has been disguised as a cure for their addictions. Jonathan Young reprises his role as Nikola Tesla.
Guest stars include Ryan Kennedy, Jonathon Young, Chad Rook, Adrienne Carter, Giacomo Baessato, Steve Archer and Melissa Poll.
02:30 PM
Haunted
A ship begins sinking off the coast of South Africa, prompting Magnus and her team to rescue the passengers and the crew. When one of the refugees is found brutally murdered, Druitt (Christopher Heyerdahl) becomes the prime suspect.
Guest stars include Ntsiki Kheswa, Hamza Fouad and Marcia Moulton.
03:30 PM
Kali - Part I
Magnus, Will and Kate journey to Mumbai, India, to probe a murder that may be linked to the Cult of Kali, whose devotees can allegedly predict disasters, but Will succumbs to a mysterious illness in the course of the investigation.
Guest stars include Callum Blue, Shaker Paleja,
Stargate Atlantis'
Paul McGillion, Robert Lawrenson and Terry Chen.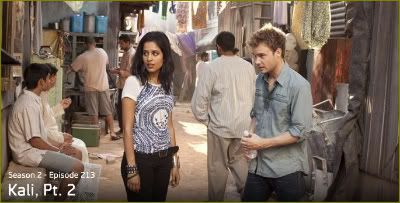 04:30 PM
Kali - Part II
After finding Will in a Dharavi warehouse just barely alive, Magnus, Kate and Ravi (Shaker Paleja), rush him back to the Mumbai Sanctuary for emergency treatment. Hallucinating and drifting in and out of consciousness, Will continues to call out to Kali, the beautiful woman in his visions, in English and in Hindi.
Guest stars include Callum Blue, Shaker Paleja, Sahar Biniaz,
Stargate Atlantis'
Paul McGillion, Terry Chen, Balinder Johal and Vibhor Mathur.