Source:
Entertainment Weekly
[follow link for complete article]

ENTERTAINMENT WEEKLY: This Week's Cover: Geek God Nathan Fillion goes mainstream
Mar 17 2011
There's only one guy we know of who could get mobbed by the hordes at Comic-Con and the moms at Costco: Nathan Fillion. A card-carrying member of the Whedonverse since Firefly debuted (and was canceled) in 2002, his rugged handsomeness and quick wit have been favorite topics of conversation among geeks for nearly a decade. But now, we're having chats with our 63-year-old mothers about his smile, usually around 11 p.m. on Mondays. How did that happen?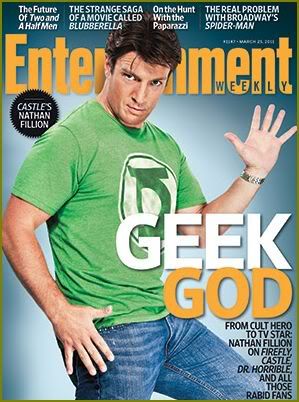 ... For more — including a face-off between Fillion and Katic on how soon Castle and Beckett should get together, and Fillion's plans for keeping his geek fan base stoked – pick up the new issue of Entertainment Weekly, on stands Friday, March 18. Or you can
click here to buy this issue online
.

NEW episode of Castle airs Mar 21 at 10/9C on ABC.