Source:
Syfy schedulebot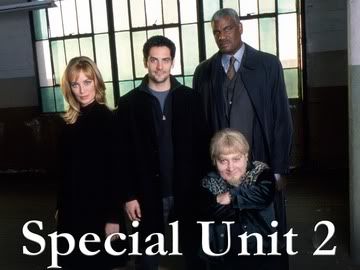 Special Unit 2 cast includes Michael Landes, Alexondra Lee, Richard Gant, Danny Woodburn and CSI: Miami's Jonathan Togo.
SPECIAL UNIT 2 - Syfy Mini-Marathon Wednesday, December 29, 2010
08:00 AM
The Wraps
An ancient JAPANESE mummy arises from the dead, who can not only take the form of any handsome man he imagines in order to kidnap beautiful unsuspecting women, but can also do Matrix Style martial arts fighting as well. The better to beat Detective O'Malley with. The mummy needs three women to complete his sacrificial ceremony and O'Malley must stop him.
Guest cast includes Sean Whalen, Mike Rad, Ping Wu and Star Trek: Enterprise's Dominic Keating.
09:00 AM
The Web
Something is seducing and killing young men, and the Special Unit 2 Squad suspects a young woman of being a 'spider mutant' link. A young girl is also attacked by the creature and is taken under the wing of O'Malley, who finds he has a growing attraction to the girl. Ultimately they discover that there are more of these beautiful and deadly 'black widows' than they anticipated and they must find the nest before they claim more victims.
Guest cast includes Sean Whalen, Nikita Ager, Jenn Bird, Whitney Dylan and Will Kempe.

Michael Landes and Alexondra Lee
10:00 AM
The Waste
A mysterious creature is created from the medical waste from liposuction clinics. Yes it is a creature composed of ... FAT, roaming the sewer system of Chicago, in search of even more human fat to serve its insatiable appetite and it's not above killing to get a meal. Also O'Malley's former partner, a fellow detective is wrongly charged with the murder of a police officer, who was actually killed by the monster. O'Malley swears he will find a way to clear his friend's name.
Guest cast includes Matthew Atherton, Lisa Brounstein and Michael B. Silver.
11:00 AM
The Depths
A series of mysterious attacks on young women, leaving them comatose, brings the Special Unit 2 team in search of an aquatic link - a frightening version of the legendary 'Mer-Men".
Guest cast includes Courtney Peldon, Bryan Kirkwood, Kurt Carley and David Campbell.
12:00 PM
The Grain
The special unit searches for the sandman. A being that possesses people and the victim experience radical behavioral changes.
Guest cast includes Scott Denny and NCIS' Pauley Perrette.
01:00 PM
The Skin
A creature kills a couple in a familiar pattern, too familiar for Ed. Ed must make a deal with the one they captured to find the new creature.
Guest cast includes Link Baker, Tsianina Joelson, Jennifer O'Leary, Reg Parks and Mark Sheppard.
02:00 PM
The Years
Detectives Benson & O'Malley track down a "Year Witch", that kills its victims by sucking the youth out of them; O'Malley becomes attracted to an enigmatic fashion designer, who's the primary suspect.
Guest cast includes Antonio Cupo, Lola Glaudini and Jeremy Jones.
03:00 PM
The Invisible
The bogeyman kills a babysitter. Special Unit 2 must find him, but he can only be seen by kids, gnomes, and banshees. Several years ago, a killing by the bogeyman was blamed on an innocent man, he's scheduled to be executed. They must find a way to prove the bogeyman was the killer and keep the public unaware of the special unit 2's mission.
Guest cast includes Amy Acker, Giacomo Baessato, Casey Dubois and MCIS' Pauley Perrette.