Source: Syfy
schedulebot
[
NOTE: Syfy schedule subject to change(s)
]

SUPER STORM MOVIE MARATHON - SYFY: SCHEDULE FRIDAY, SEPTEMBER 20, 2013
08:00 AM Super Cyclone
When a super cyclone threatens the entire American eastern seaboard, a lone meteorologist (
Ming Na
) and a petroleum engineer (
Nicholas Turturro
) must battle the elements to stop the threat.
Cast includes
Blue Bloods'
Nicholas Turturro,
Stargate Universe's
Ming-Na, Andy Clemence, Darin Cooper, Jonathan Le Billon, Dylan Vox, Gerald Webb, Wayne Lopez, Steve Hanks, AnnaMaria Demara, Mitch Lerner, Jamie Burton-Oare, Carl Gilliard, Todd James Jackson, Tracy Winters, Mat Lageman and Gospel Jackson.
10:00 AM Metal Tornado
When a ground-breaking experiment goes awry, the energy overflows into a deadly magnetic tornado, forcing workers and scientists to scramble for safety. Scientists Steven Winters (
Todd Duckworth
), Michael Edwards (
Lou Diamond Phillips
) and Rebecca Adler (
Nicole de Boer
) must stop this extraordinary threat.
Cast includes
Longmire's
Lou Diamond Phillips, Nicole de Boer, Greg Evigan, Stephen MacDonald, John Maclaren, Todd Duckworth, Cinthia Burke, Sophie Gendron, Frank Schorpion and Sean Tucker.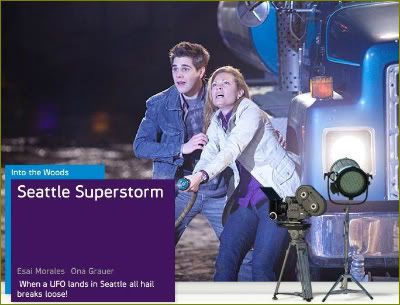 12:00 PM Seattle Superstorm
A scientist and a soldier must save the world from deadly storms triggered by a
UFO
that crashed in Seattle's Puget Sound.
Cast includes
Caprica's
Esai Morales,
Stargate Universe's
Ona Grauer, Jared Abrahamson, MacKenzie Porter, Martin Cummins, Michelle Harrison, Matty Finochio, Dominika Juillet and Jesse Moss.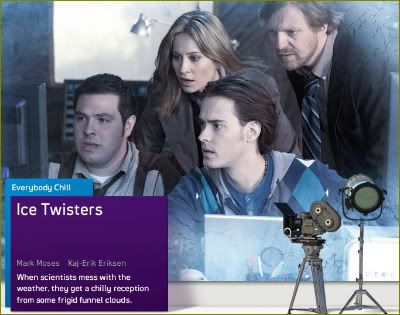 02:00 PM Ice Twisters
Scientists seek the assistance of a science fiction novelist when a top-secret government program devoted to researching experimental weather manipulation techniques results in the creation of deadly tornadoes made of ice.
Cast includes Mark Moses, Camille Sullivan, Kaj-Erik Eriksen, Alex Zahara, Ryan Kennedy, Robert Moloney,
Defiance's
Dion Johnstone and Ingrid Torrance.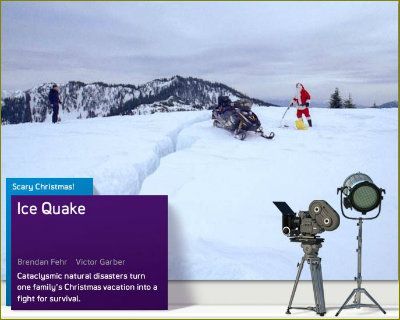 04:00 PM Ice Quake
A family tries to counter a threat to the planet on Christmas Eve as melting Alaskan permafrost creates underground rivers of liquid methane that trigger violent earthquakes.
Cast includes Brendan Fehr, Holly Elissa Lamaro, Jodelle Ferland, Ryan Grantham, Rob LaBelle, Nicholas Carella, Victor Garber, Sharon Taylor, Kurt Max Runte and Aaron Pearl.
06:00 PM Snowmageddon
A tale about a mystical snow globe that can cause bad things in the real world when shaken.
Cast includes
Medium's
David Cubitt, Laura Harris,
Battlestar Galatica's
Michael Hogan,
Caprica's
Magda Apanowicz, Jeffrey Ballard, Leanne Lapp, Dylan Matzke, Carolyn Adair, Teach Grant and Amitai Marmorstein.