Source: Syfy
schedulebot
[
NOTE: Syfy schedule subject to change(s)
]

SCIFI MOVIE MARATHON - SYFY: SCHEDULE SUNDAY SEPTEMBER 15, 2013
09:00 AM The Phantom - Part One
College student Chris (
Ryan Carnes
) discovers his biological father is a skilled martial artist and crimefighter known as the
Phantom
and seeks out the proper training in order to follow in his dad's footsteps.
Cast includes Ryan Carnes, Sandrine Holt, Cameron Goodman, Jean Marchand, Cas Anvar, Ron Lea, Victor Andres Turgeon-Trelles, Sedina Balde and Isabella Rossellini.
11:00 AM The Phantom - Part Two
01:00 PM Children Of Men
Captivating thriller set in 2027 London, where no children are being born and a reluctant activist (
Clive Owen
) tries to protect a woman who becomes pregnant.
Directed by
Alfonso Cuarón
, who co-wrote the script based on the
P.D. James
novel "
The Children of Men
."
Cast includes Clive Owen, Michael Caine, Chiwetel Ejiofor, Julianne Moore, Danny Huston, Charlie Hunnam, Paul Sharma, Tehmina Sunny and Pam Ferris.
03:00 PM Repo Men
Organ-repo man Remy (
Jude Law
) is targeted by his former partner Jake (
Forest Whitaker
) after receiving a replacement heart and subsequently falling behind on payments for his new ticker. With the help of another debtor Beth (
Alice Braga
), Remy finds a way to beat the system and and fight back against the Union, a producer of artificial organs known for taking back body parts by force when recipients fail to pay the bill.
Cast includes Jude Law, Forest Whitaker, Alice Braga, Liev Schreiber,
Game of Thrones'
Carice van Houten, Chandler Canterbury, Joe Pingue and Liza Lapira.
05:30 PM Terminator 3: Rise Of The Machines
Arnold Schwarzenegger's
smashing third go-round as the futuristic robot, or "cybernetic organism," battles a female terminator (
Kristanna Loken
), who is sent to assassinate John Connor (
Nick Stahl
), who's destined to become the leader of a worldwide resistance movement. The film picks up 10 years after the last installment of the sci-fi series.
Cast includes Arnold Schwarzenegger, Nick Stahl, Claire Danes, Kristanna Loken, David Andrews, Mark Famiglietti, Earl Boen, Moira Harris, Christopher Lawford, Jay Acovone and M.C. Gainey.
08:00 PM X-Men 2: X-Men United
- * NEW to Syfy! *
Action-packed, all-star sequel in which the Marvel Comics mutant superheroes band together when the government tries to eliminate them.
Cast includes
Star Trek: The Next Generation's
Patrick Stewart, Hugh Jackman, Ian McKellen, Halle Berry, Famke Janssen, James Marsden, Anna Paquin,
King & Maxwell's
Rebecca Romijn, Brian Cox, Alan Cumming, Bruce Davison, Aaron Stanford,
The Following's
Shawn Ashmore,
Warehouse 13's
Kelly Hu, Kea Wong, Cotter Smith,
Continuum's
Roger R. Cross, Connor Widdows, Daniel Cudmore, Charles Siegel, James Kirk, Alf Humphreys and
Stargate SG-1
/
Stargate Atlantis
/
Stargate Universe
alums Katie Stuart, Michael David Simms, Ty Olsson, Peter Wingfield, Steve Bacic, Jill Teed, Michasha Armstrong, Kendall Cross, Aaron Pearl, Aaron Douglas, Colin Lawrence and Kurt Max Runte.
11:00 PM Terminator 3: Rise Of The Machines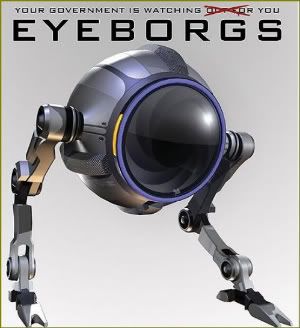 01:30 AM Eyeborgs
FBI
Agent Gunner Reynolds (
Adrian Paul
) battles an army of weaponized security cameras that have been hacked by terrorists. The determined agent must convince the president to shut down his surveillance program before the machines take over.
Cast includes
Highlander's
Adrian Paul, Megan Blake, Luke Eberl and Tim Bell.