Source:
Collider
[follow link for complete interview]
COLLIDER: Katee Sackhoff Talks RIDDICK, Shooting in Montreal, Her Record Collection, Getting Cut from PITCH PERFECT, OCULUS, Conventions, Twitter, and More
by
Steve 'Frosty' Weintraub
September 5, 2013
Opening this weekend is writer-director
David Twohy's
Riddick
. The R-rated film finds
Vin Diesel's
character being hunted by mercenaries, and once again, they're hopelessly outmatched by the anti-hero who can see in the dark. But the mercs and their bounty are forced to team up when lethal alien monsters attack. If you're a fan of
Pitch Black
, you're going to be very happy watching
Riddick
. The film also stars
Matt Nable
,
Katee Sackhoff
,
Jordi Molla
,
Dave Bautista
,
Raoul Trujillo
,
Bokeem Woodbine
and
Nolan Gerard Funk
.
At the recent press day in Los Angeles I landed an exclusive interview with
Katee Sackhoff
. She talked about making the film, what surprised her about the filming process, how she was cut out of
Pitch Perfect
(but still gets residuals), the best part of attending conventions, Twitter, what she collects,
Oculus
, and much more...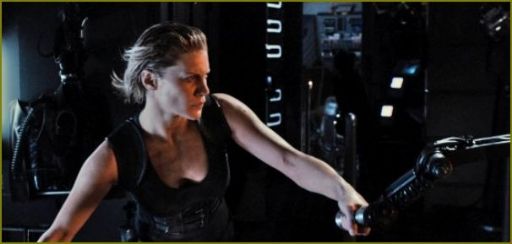 ...
Collider: I'm gonna jump back into Riddick for a second. For people curious about the making of the movie, what's the thing that maybe would surprise them about the actual making of the film? In terms of behind the scenes, the stuff you don't see in the b-roll, the stuff you don't hear about. Was there anything that really surprised you about the making of it that fans might be interested to learn?
Katee Sackhoff
: "
I mean, seriously, that's such a great question because I think that there's so many little things that I'm not even thinking of because it's so commonplace for me. I think that for me, so I can't really think about it, but the thing that gets me the most, the things that are the most fun for me, is like the scene at the very end of the movie where I'm harnessed and I come down, and to see that happen, it was on a little, the size of a four car garage space, with a mountain. A mountain that was built it, that was probably only twenty feet high, and a harness on a crane, and me dangling from the harness, and Vin [Diesel] sitting on the side of the mountain. That's it. And then to see it finished is one of the coolest things I've ever seen. Just to see the mud demons climbing up the mountain and him fighting for his survival, and my character coming out of nowhere. It's amazing! I was like, "Oh my God that was so cool! I did that!" No I didn't, Katee. You're on a harness on a thirty foot mountain. I think just things like that, just to actually see it happen and then see it on camera, or you know, in the film is such a completely different thing...
"
Riddick
opens in theaters on September 6, 2013.