Source:
Syfy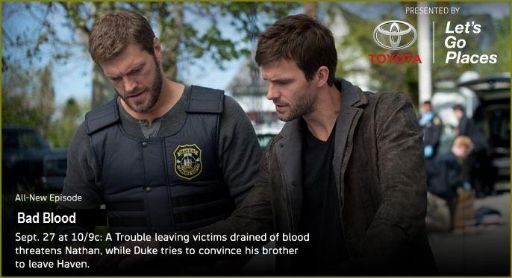 HAVEN - SYFY VIDEO: 'BAD BLOOD' SNEAK PEEK - AIRS FRIDAY, SEPTEMBER 27, 2013 AT 10/9C
Check out this sneak peek of Haven, Fridays at 10/9c.
Nathan (
Lucas Bryant
) is on the case when bodies that have been drained of all their blood are discovered; at the same time, Duke (
Eric Balfour
) tries desperately to convince his half-brother Wade (
Christian Camargo
) to make his stay in the troubled town of
Haven
a short one.
Guest stars include Christian Camargo, Kate Kelton and Adam Copeland.