Source: Syfy
schedulebot
[
NOTE: Syfy schedule subject to change(s)
]
GATORTHON MOVIE MARATHON - SYFY: SCHEDULE SATURDAY, SEPTEMBER 14, 2013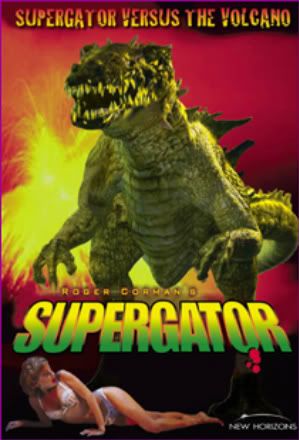 11:00 AM Supergator
Scott Kinney
is an American geologist monitoring a local volcano when the Supergator, a prehistoric alligator recreated from fossilized DNA escapes from a secret bio-engineering research center. Kinney joins forces with another scientist and a Texan alligator hunter as they pursue the monster as it heads down river intent on destroying a luxurious resort packed with tourists.
Cast includes Brad Johnson, Kelly McGillis, Bianca Lawson, Mary Alexandra Stiefvater and Josh Kelly.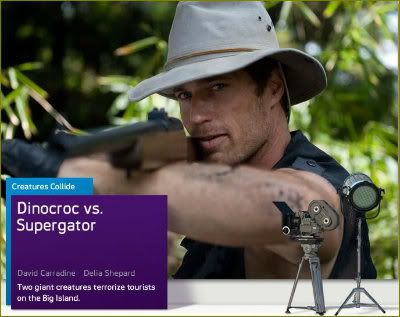 01:00 PM Dinocroc Vs Supergator
Enormous reptiles escape from a research facility on a tropical island and feast on unwary tourists, culminating in a clash between a prehistoric crocodile and a monstrous alligator.
Cast includes David Carradine, James C. Burns, John Callahan, Lisa Clapperton, Bryan Hanna, Terrill Hardaway, Rib Hillis, Brooks Kephart, Corey Landis, Katy Magnuson, Amy Rasimas Holt, Jeff Rector, Travis Richey, Jenny Robinson, Tamie Sheffield, Delia Sheppard, Steve Silverie and Michael Swan.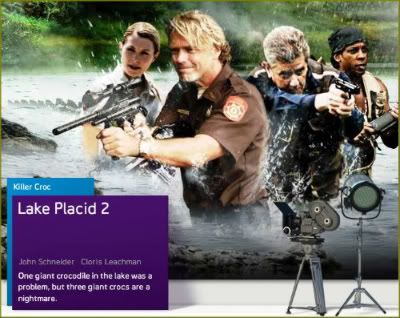 03:00 PM Lake Placid 2
The quirky residents of
Lake Placid
once again become gator bait in this horror sequel. Eight years after the town was devastated by a giant crocodile, the creature's numerous offspring return for some human snacks of their own. It's up to the local sheriff (
John Schneider
), his ex-girlfriend, an
EPA
agent and a professional croc hunter to stop the bloodthirsty beasts before they kill again.
Guest includes John Schneider, Sarah Lafleur, Sam McMurray, Chad Michael, Alicia Ziegler, Joe Holt, Ian Reed Kesler, Justin Urich and Cloris Leachman.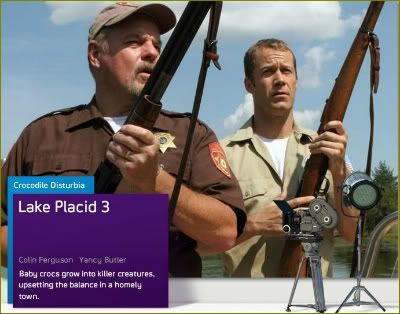 05:00 PM Lake Placid 3
A game warden (
Colin Ferguson
) moves into his aunt's lakeside cabin with his wife and young son, and the little boy feeds the resident baby crocodiles until they grow up into monstrous predators that become a menace to the family.
Cast includes
Haven's
Colin Ferguson, Yancy Butler, Kirsty Mitchell, Kacey Barnfield, Jordan Grehs, Michael Ironside, Angelica Penn and Bianca Ilich.
07:00 PM Ragin' Cajun Redneck Gators
Two feuding Cajun families must work together to rid the bayou of gigantic, mutated, predatory alligators that are the result of a bad batch of moonshine that was discarded, but the toxic moonshine causes anyone bit by a gator to turn into one.
Cast includes
Eureka's
Jordan Hinson,
Continuum's
Victor Webster, Christopher Berry, Shanna Forrestall, Ritchie Montgomery, Amy Brassette, John Chriss, Thomas Francis Murphy, Michael Baird and Steven A. Lynch.
09:00 PM Robocroc - * Syfy Premiere! *
A crocodile is transformed into a killing machine that's let loose in a water park full of young adults.
Cast includes
Stargate SG-1's
Corin Nemec, Lisa McCallister, Steven Hartley and Dee Wallace.
11:00 PM Mega Python Vs. Gatoroid
Monstrous reptiles clash in the Florida Everglades when giant pythons threaten the alligator population.
Cast includes Deborah Gibson, Tiffany, A Martinez, Kathryn Joosten, Kevin M. Horton and Carey Van Dyke.
01:00 AM Robocroc
03:00 AM Croc
A large man-eating crocodile terrorizes tourists and locals near Krabi, in Thailand.
Cast includes Michael Madsen, Peter Tuinstra, Sherry Phungprasert, Elizabeth Healey, Scott Hazell and Tawon Saetang.