Source:
The Guardian
(UK) [follow link for complete interview]

DOCTOR WHO - THE GUARDIAN: JOHN HURT INTERVIEW
John Hurt: I thought Doctor Who fans would be loonies but they're charming
The veteran actor talks about blockbusters, the plight of bees – and the buzz he got from playing Doctor Who
by
Tim Lewis
Saturday 7 September 2013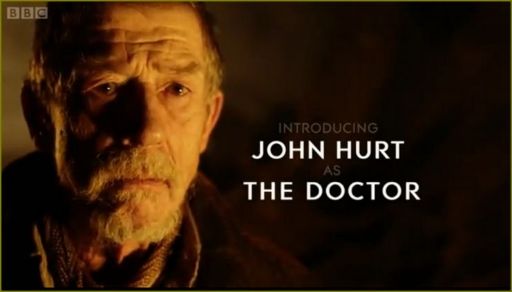 ...
Guardian: It's your 50th year in the business and you are about to appear as the Doctor in the 50th anniversary of Doctor Who. Both of you have had lots of reinventions. Is there a neat link there?
John Hurt
: "
I'd never thought of that, but let's use it! Oh yes, there's a huge link definitely. But I had no idea that Doctor Who had got so huge; I just thought, "Brilliant, I'll be a Doctor!" I was suddenly – what do they call it? You start "trending". This is all new to me!
"
Guardian: Is it a relief you can talk about your role, now that the costume designer let slip to the Prince of Wales that you play a "dark Doctor"?
John Hurt
: "
Of course you have to remember that the Doctors are all one person, so I'm not outside of that. I can't talk about it, but I will say I was really impressed when I did it. Both the previous doctors – Matt Smith and David Tennant – boy, are they good at it. Whoa-wee! They are so quick, and there's a huge amount of learning and no time to learn it in. All that fake scientific nonsense. Terribly difficult to learn...
"
NEW
Doctor Who
on
BBC America
in the US on Saturday, November 23, 2013 with the premiere of the
50th Anniversary Special
! Cast includes
David Tennant
,
Matt Smith
,
Billie Piper
,
Jenna Coleman
,
John Hurt
,
Joanna Page
,
Jemma Redgrave
,
Ingrid Oliver
,
Ken Bones
and
Orlando James
.