Source:
Syfy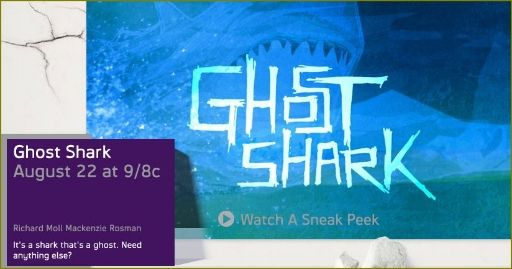 SHARKNADO AND GHOST SHARK - SYFY VIDEO: 'BACK TO BACK SHARK ATTACK PROMO' - AIRS AUGUST 22, 2013
Sharknado
encore at 7/6C.
When a freak hurricane swamps Los Angeles, thousands of sharks terrorize the waterlogged populace, and nature's deadliest killer rules sea, land, and air.
Cast includes Tara Reid, Cassie Scerbo, Ian Ziering, John Heard, Chuck Hittinger, Aubrey Peeples, Jaason Simmons, Adrian Bustamante, Alex Arleo, Diane Chambers, David Bittick, Christopher Wolfe, Connor Weil, Marcus Choi, Sumiko Braun and Neil H. Berkow.
CLICK HERE TO VIEW THE SHARKNADO MOVIE TRAILER
Ghost Shark
Premieres at 9/8C
When a young girl's father mysteriously vanishes in the Gulf of Mexico, she becomes obsessed with finding the truth behind his disappearance, only to discover that the culprit is not only inhuman, but the ghost of a vengeful Great White Shark. Now she must convince the local authorities to trust her wild claims and identify the origins of the spectral predator if she wants to save her friends and family from the unstoppable killing machine.
Cast includes Mackenzie Rosman, Richard Moll, Dave Randolph-Mayhem Davis, Shawn C. Phillips, Amy Brassette, Lucky Johnson, Jaren Mitchell, Tim Taylor, Kim Collins, Carl Palmer, Ronnie Hooks, Thomas Francis Murphy, Sloane Coe and Michael Whitener.
CLICK HERE TO VIEW THE GHOST SHARK MOVIE TRAILER