Source: Syfy
schedulebot
[
NOTE: Syfy schedule subject to change(s)
]

HORROR MOVIE MARATHON - SYFY: SCHEDULE SUNDAY, AUGUST 25, 2013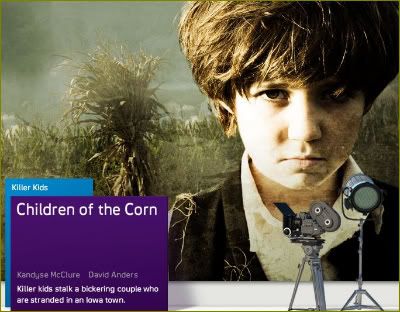 11:00 AM
Children Of The Corn
A couple (
David Anders, Kandyse McClure
) try to save their marriage with a road trip, which gets derailed when they find a strange rural town ruled by fanatically religious children. Based on the
Stephen King
short story.
Cast includes David Anders, Kandyse McClure, Daniel Newman, Preston Bailey and Robert Gerdisch.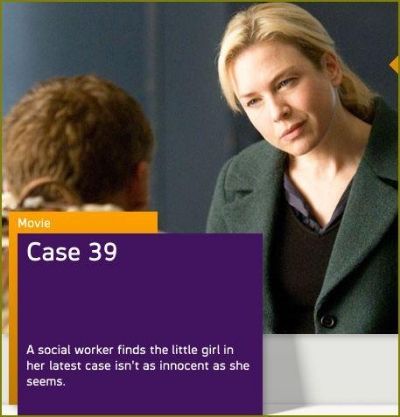 01:00 PM
Case 39
Social worker Emily (
Renée Zellweger
) uncovers a lethal secret about a 10-year-old girl whose case she is responsible for after the child's parents try to harm her.
Cast includes Renée Zellweger, Jodelle Ferland, Ian McShane, Bradley Cooper, Callum Keith Rennie, Adrian Lester, Kerry O'Malley, Cynthia Stevenson, Alexander Conti, Philip Cabrita, Benita Ha, Alisen Down, Fulvio Cecere, Colin Lawrence, Andrew Airlie and Sarah-Jane Redmond.
03:00 PM
My Soul To Take
A serial killer returns 16 years after his death to claim the seven children born on the night he was killed. Meanwhile, the maniac's son Adam (
Max Thieriot
)---one of his intended victims---battles to lay his father's bloody legacy to rest.
Cast includes Max Thieriot, John Magaro, Denzel Whitaker, Zena Grey, Nick Lashaway, Paulina Olszynski, Jeremy Chu, Emily Meade, Raúl Esparza, Jessica Hecht, Frank Grillo,
The Walking Dead's
Danai Gurira, Harris Yulin, Shareeka Epps, Elena Hurst, Dennis Boutsikaris and Felix Solis.
05:00 PM
Underworld: Evolution
Gory sequel finds the bloodsucking heroine (
Kate Beckinsale
) tracing the origins of the ancient feud between the tribes of vampires and werewolves.
Cast includes Kate Beckinsale,
Defiance's
Tony Curran, Derek Jacobi, Bill Nighy, Michael Sheen and Sophia Myles.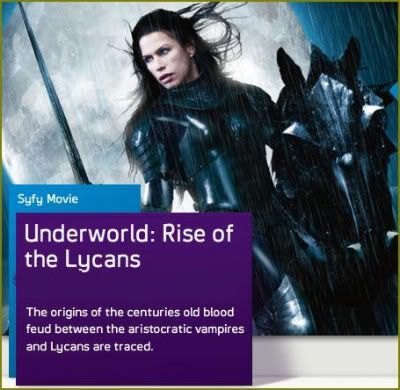 07:00 PM
Underworld: Rise Of The Lycans
A prequel to the first two Underworld films, this fantasy explains the origins of the feud between the Vampires and the Lycans. Aided by his secret love, Sonja (
Rhona Mitra
), courageous Lucian (
Michael Sheen
) leads the Lycans in battle against brutal Vampire king Viktor (
Bill Nighy
). Determined to break the king's enslavement of his people, Lucian faces off against the Death Dealer army in a bid for Lycan independence.
Cast includes Michael Sheen, Bill Nighy, Rhona Mitra, Steven Mackintosh, Kevin Grevioux, David Aston, Geraldine Brophy and Leighton Cardno.
09:00 PM
G. I. Joe: The Rise Of Cobra
An elite military unit battles the corrupt arms dealer Destro (
Christopher Eccleston
) in order to prevent the nefarious Cobra organization from destroying the world
Cast includes Adewale Akinnuoye-Agbaje,
Doctor Who's
Christopher Eccleston, Grégory Fitoussi, Joseph Gordon-Levitt, Leo Howard, Karolina Kurkova, Byung-hun Lee, Sienna Miller, David Murray,
Continuum's
Rachel Nichols, Kevin J. O'Connor, Gerald Okamura, Ray Park, Jonathan Pryce, Dennis Quaid, Saïd Taghmaoui, Channing Tatum and Arnold Vosloo.
11:30 PM
Sin City
Robert Rodriguez
and
Frank Miller
directed this stunning, faithful and gory adaptation of a trio of
Miller's
graphic novels set in the underbelly of a noirish metropolis. A film that explores the dark and miserable town, Basin City, and tells the story of three different people, all caught up in violent corruption.
Cast includes Jessica Alba, Devon Aoki, Powers Boothe, Jude Ciccolella, Rosario Dawson, Jesse De Luna, Benicio Del Toro, Michael Clarke Duncan, Rick Gomez, Carla Gugino, Josh Hartnett, Rutger Hauer, Nicky Katt, Jaime King, Michael Madsen, Brittany Murphy, Nick Offerman, Clive Owen, Mickey Rourke, Nick Stahl, Bruce Willis and Elijah Wood.