Source: Syfy
schedulebot
[
NOTE: Syfy schedule subject to change(s)
]

HORROR MOVIE MARATHON - SYFY: SCHEDULE MONDAY, AUGUST 5, 2013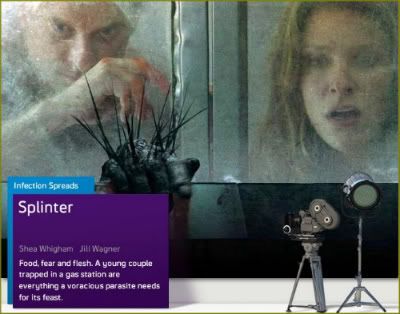 08:00 AM
Splinter
A young couple and an escaped convict are trapped in an isolated gas station by a parasite that transforms its still-living victims into deadly hosts.
Cast includes Charles Baker, Jill Wagner, Paulo Costanzo, Shea Whigham, Rachel Kerbs and Laurel Whitsett.
10:00 AM
Primal
A group of friends travel below ground to view ancient cave paintings but soon find a horrible sickness gripping one of their own, which leaves them with nothing in their mind but a primal blood lust.
Cast includes Zoe Tuckwell-Smith, Krew Boylan, Lindsay Farris, Rebekah Foord, Damien Freeleagus and Wil Traval.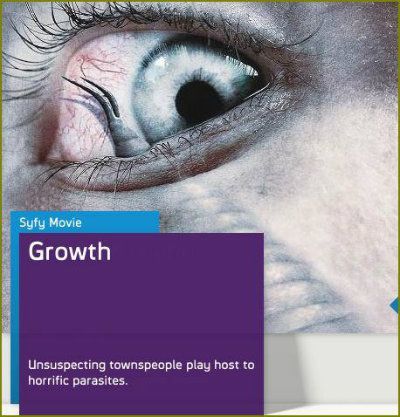 12:00 PM
Growth
In 1989, a breakthrough in advanced parasitic research on Cuttyhunk Island, gave scientists a jump in human evolution. Initial tests proved promising as subjects were experiencing heightened physical and mental strength and awareness. But, something in the experiment went horribly wrong and the island mysteriously lost three quarters of its population. Jamie Akerman (
Mircea Monroe
) fled the outbreak, which took her mothers life, twenty years ago. She now returns with her boyfriend and step brother, to sell the family property. There, they uncover the key to Jamie's disturbing past, and the horrifying secrets long suppressed by the town leader, Larkin (
Richard Riehle
). Now, a new strain of parasite has emerged, and threatens the island once again. Jamie struggles to survive and escape the obsessive pursuit of the local islanders who know that she has inherited more than she could ever have imagined.
Cast includes Mircea Monroe, Christopher Shand, Nora Kirkpatrick, Brian Krause, Richard Riehle, Lou Richards, Ian Patrick Williams, Jill Hoiles, Jessica Dercks and Robert Pike Daniel.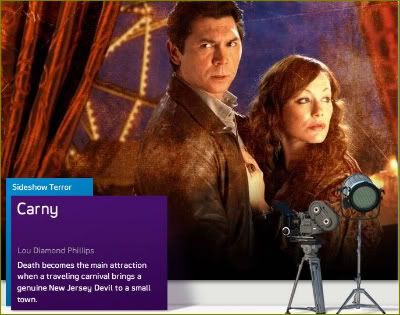 02:00 PM
Carny
A small-town sheriff (
Lou Diamond Phillips
) contends with a creature that escaped from a carnival.
Cast includes
Longmire's
Lou Diamond Phillips, Alan C. Peterson, Vlasta Vrana and Dominic Cuzzocrea.
04:00 PM
Stake Land
After vampires overtake America, orphaned teen Martin (
Connor Paolo
) and survivalist Mister (
Nick Damici
) find themselves locked in a battle against a dangerous religious cult lead by the diabolical Jebedia Loven (
Michael Cerveris
). Later, Martin and Mister are joined by a group of weary travelers trying to find a sanctuary known as New Eden.
Cast includes Nick Damici, Connor Paolo, Sean Nelson,
Fringe's
Michael Cerveris, Bonnie Dennison, Chance Kelly, Tim House, Larry Fessenden and Kelly McGillis.