Source:
Starry Constellation Magazine
[follow link for complete interview]

WAREHOUSE 13 - STARRY CONSTELLATION MAGAZINE: EDDIE MCCLINTOCK, JOANNE KELLY AND SHOWRUNNER JACK KENNY INTERVIEW
by:
Jamie Steinberg
July 3, 2013
...
Q) I know you guys are winding down soon to the end. Is there a particular artifact that you guys wanted and would like to keep and take home with you?
Jack Kenny
: "
I already have the Astrolabe so I'm happy. That was the best artifact ever. I love that. I gave it away to the writers.
"
Joanne Kelly
: "
Rheticus' compass is pretty rad.
"
Jack
: "
And Rheticus' compass is pretty cool, yes, it was beautifully mad.
"
Eddie McClintock
: "
The View actually had that.
"
Joanne
: "
I would like the muskoka chairs from the office for my patio. I don't have any patio furniture so that's what I got my eye on. The muskoka chairs are the big black ones outside of Artie's office.
"
Jack
: "
Oh, oh, yes, well we call them Adirondack chairs down south. The artifacts look so much better on camera than they do in your hand, you know, when you get the - like the Phoenix is. Like the Phoenix is the original Phoenix artifact is pretty much made of like plastic and then Quantum Mechanix - Quantum Mechanix, the people who make all our props, they made replicas to sell as key chains and they're fantastic. I mean, I want one of those. I want one of those. And the same thing with the Teslas, you see our Teslas that we use and plastic and they kind of break a lot but the ones that you can buy from Quantum Mechanix are fantastic ones so. And half the time we use their props for now. We use their Farnsworths and their Teslas. I don't know was there an artifact you want?
"
Eddie
: "
I'm going to take something from Artie's office, maybe the lizard—the big lizard.
"
Jack
: "
Just wait until we wrap, please.
"
Eddie
: "
You'll see on some red carpet thing in the future and you'll be like hey, it's Pete! That's Eddie he's wearing the what - oh.
"
Jack
: "
And your toupee. Who's going to get your toupee?
"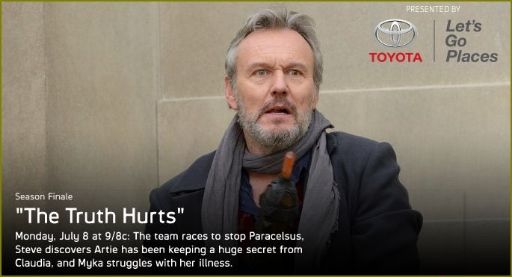 The
Warehouse 13
season four finale airs Monday, July 8, 2013 at 10/9C on
Syfy
.
CLICK HERE TO VIEW THE EPISODE TRAILER FOR 'THE TRUTH HURTS.'