Source: Syfy
schedulebot
[
NOTE: Syfy schedule subject to change(s)
]

SCIFI MOVIE MARATHON - SYFY: SCHEDULE SATURDAY, JULY 20, 2013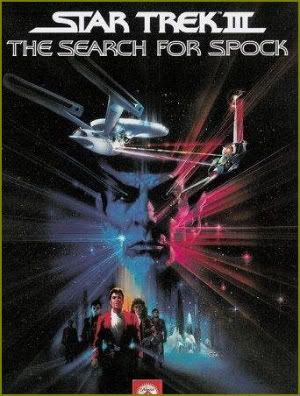 09:00 AM
Star Trek III: The Search For Spock
Star Trek (original series movies) cast include William Shatner, Leonard Nimoy, DeForest Kelley, James Doohan, George Takei, Walter Koenig and Nichelle Nichols.
Kirk (
William Shatner
) and his crew try to reunite Spock's (
Leonard Nimoy
) mind and body.
Guest cast includes Christopher Lloyd, John Laroquette, Robin Curtis, Merritt Butrick, Phil Morris and Robert Hooks.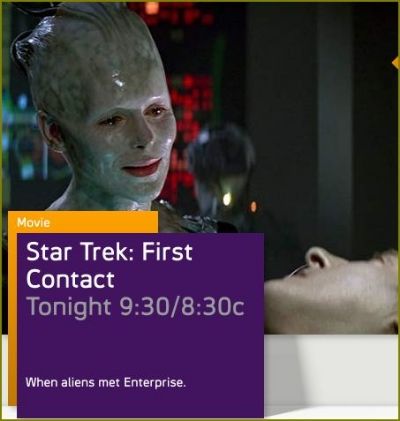 11:30 AM
Star Trek VIII: First Contact
Star Trek: The Next Generation movie cast includes Patrick Stewart, Jonathan Frakes, LeVar Burton, Marina Sirtis, Brent Spiner, Michael Dorn and Gates McFadden.
The Borg are back! Capt. Jean-Luc Picard (
Patrick Stewart
) confronts the archenemies who kidnapped and assimilated him in a "
Next Generation
" TV episode. Now, the Borg have time-traveled to Earth's past to preclude the first contact between humans and Vulcans, which resulted in the Federation's birth. Bent on revenge, Picard follows the Borg to the 21st century. Will Picard sacrifice everything to stop the villains?
Guest cast includes Alfre Woodard, James Cromwell, Alice Krige, Michael Horton, Neal McDonough, Marnie McPhail,
Star Trek: Voyager's
Robert Picardo and Dwight Schultz.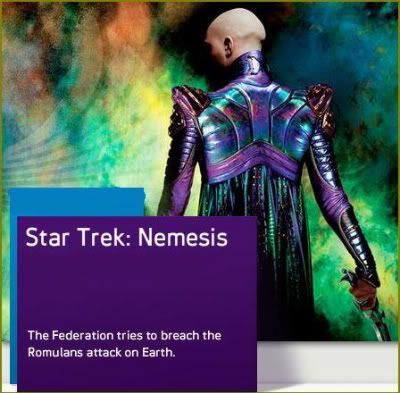 02:00 PM
Star Trek X: Nemesis
Star Trek: The Next Generation movie cast includes Patrick Stewart, Jonathan Frakes, LeVar Burton, Marina Sirtis, Brent Spiner, Michael Dorn and Gates McFadden.
The crew of the
Enterprise
must prevent a replica of Capt. Picard (
Patrick Stewart
) from overtaking Earth.
Guest cast includes Tom Hardy, Ron Perlman, Shannon Cochran, Dina Meyer, Kate Mulgrew and Wil Wheaton.
04:30 PM
Highlander: The Source
Adrian Paul
and
Peter Wingfield
star in this sequel that puts Duncan MacLeod and a group of immortals on a quest to locate the source of their immortality.
Cast includes Adrian Paul, Thekla Reuten, Cristian Solimeno, Peter Wingfield, Jim Byrnes, Stephen Rahman Hughes, Stephen Wight and Thom Fell.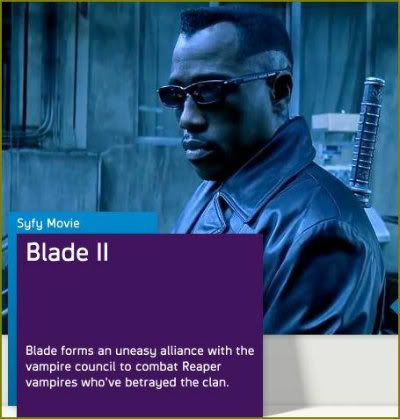 06:30 PM
Blade II
A vampire slayer (
Wesley Snipes
) teams up with the undead to take down a band of mutant bloodsuckers.
Cast includes Wesley Snipes, Kris Kristofferson, Ron Perlman, Leonor Varela,
The Walking Dead's
Norman Reedus, Luke Goss and
Defiance's
Tony Curran.
[Time out for NEW episodes of
Sinbad
and Primeval:
New World
]
11:00 PM
Dinoshark
A dinosaur-shark hybrid terrorizes a resort in Mexico, and it's up to a young fishing boat captain to stop it.
Cast include
Haven's
Eric Balfour, Iva Hasperger, Aarón Díaz, Humberto Busto and Richard Miller.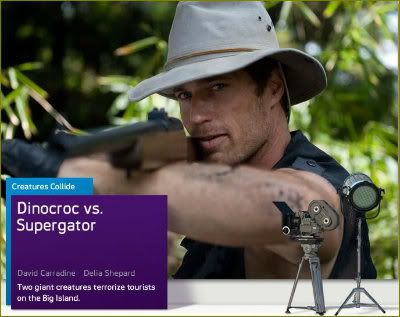 01:00 AM
Dinocroc Vs Supergator
Enormous reptiles escape from a research facility on a tropical island and feast on unwary tourists, culminating in a clash between a prehistoric crocodile and a monstrous alligator.
Cast includes David Carradine, James C. Burns, John Callahan, Lisa Clapperton, Bryan Hanna, Terrill Hardaway, Rib Hillis, Brooks Kephart, Corey Landis, Katy Magnuson, Amy Rasimas Holt, Jeff Rector, Travis Richey, Jenny Robinson, Tamie Sheffield, Delia Sheppard, Steve Silverie and Michael Swan.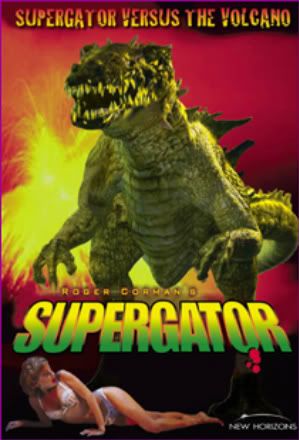 03:00 AM
Supergator
Scott Kinney (
Brad Johnson
) is an American geologist monitoring a local volcano when the
Supergator
, a prehistoric alligator recreated from fossilized DNA escapes from a secret bio-engineering research center. Kinney joins forces with another scientist and a Texan alligator hunter as they pursue the monster as it heads down river intent on destroying a luxurious resort packed with tourists.
Cast includes Brad Johnson, Kelly McGillis, Bianca Lawson, Mary Alexandra Stiefvater and Josh Kelly.