Source: Syfy
schedulebot
[
NOTE: Syfy schedule subject to change(s)
]

ZOMBIETHON - SYFY: SCHEDULE THURSDAY, JUNE 20, 2013
08:30 AM
Open Graves
A group of American students in Spain stumbles across a sinister board game, in which the loser eventually suffers a terrible death.
Cast includes Mike Vogel, Eliza Dushku, Ethan Rains, Naike Rivelli and Lindsay Caroline Robba.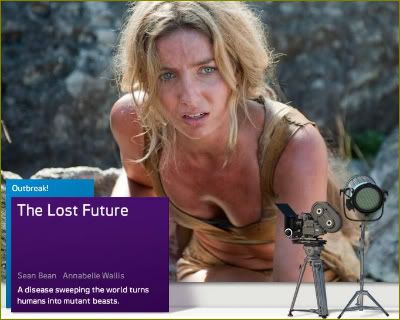 10:30 AM
The Lost Tribe
Set in a future where jungles have overtaken the remnants of civilization, a tribe struggles to survive amid mutated creatures that carry a deadly disease.
Cast includes
Game of Thrones'
Sean Bean, Corey Sevier, Sam Claflin, Annabelle Wallis, Eleanor Tomlinson, Hannah Tointon and Jonathan Pienaar.
12:30 PM
Primal
A group of friends travel below ground to view ancient cave paintings but soon find a horrible sickness gripping one of their own, which leaves them with nothing in their mind but a primal blood lust.
Cast includes Zoe Tuckwell-Smith, Krew Boylan, Lindsay Farris, Rebekah Foord, Damien Freeleagus and Wil Traval.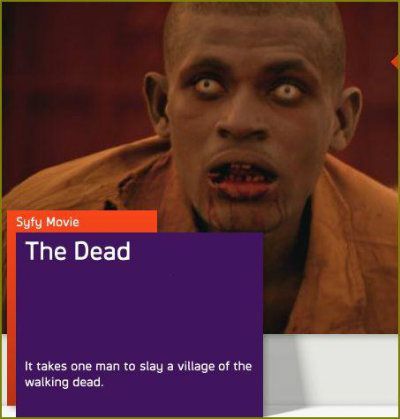 02:30 PM
The Dead
When the last evacuation flight out of war-torn Africa crashes off the coast, American Air Force Engineer Lieutenant Brian Murphy (
Rob Freeman
) emerges as the sole survivor in a land where the dead are returning to life and attacking the living.
Cast includes Rob Freeman, Prince David Oseia, David Dontoh, Ben Crowe, Glenn Salvage, Dan Morgan, Julia Scott-Russell and John Dunton-Downer.
[Time out for encore episodes of
Defiance
and
Warehouse 13
.]
07:00 PM
Dawn Of The Dead
A nurse, a policeman, a young married couple, a salesman, and other survivors of a worldwide plague that is producing aggressive, flesh-eating zombies, take refuge in a mega Midwestern shopping mall.
Cast includes Sarah Polley, Ving Rhames, Jake Weber, Mekhi Phifer, Ty Burrell, Michael Kelly, Kevin Zegers and
Motive's
Louis Ferreira.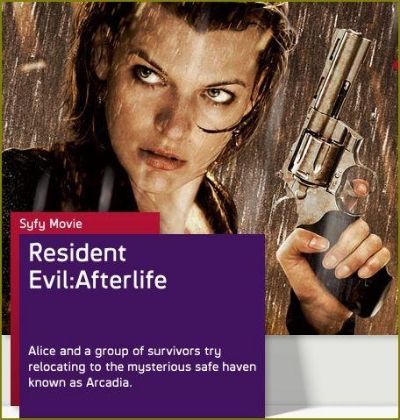 09:00 PM
Resident Evil: Afterlife
Five years after a zombie virus decimated mankind, Alice (
Milla Jovovich
) still searches tirelessly for survivors in Los Angeles with the help of an old friend. But their rescue mission turns grim when Alice sees that the city has been overrun by zombies, and they quickly realize they've stumbled into a diabolical trap.
Cast includes Milla Jovovich, Ali Larter, Kim Coates, Shawn Roberts, Sergio Peris-Mencheta, Spencer Locke, Boris Kodjoe, Wentworth Miller, Sienna Guillory, Kacey Barnfield and Fulvio Cecere.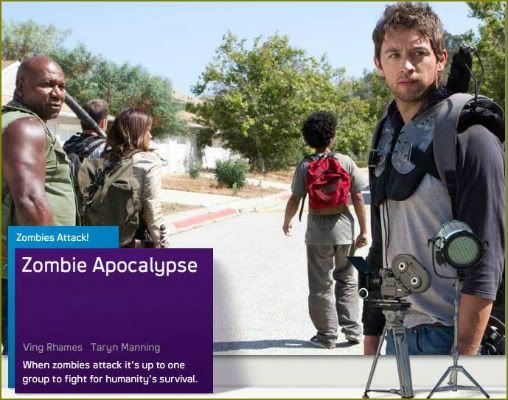 11:00 PM
Zombie Apocalypse
Months after a zombie plague has wiped out 90 percent of the American population, a small group of survivors fight their way cross-country to a rumored refuge on the island of Catalina.
Cast includes Ving Rhames, Lesley-Ann Brandt, Taryn Manning, Eddie Steeples, Johnny Pacar, Gerald Webb, Gary Weeks, Lilan Bowden and Robert Blanche.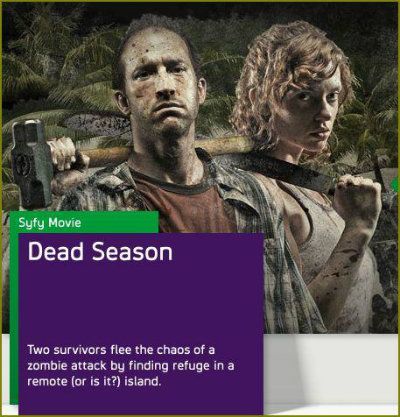 01:00 AM
Dead Season
In the aftermath of the zombie apocalypse, survivors Elvis (
Scott Peat
) and Tweeter (
Marissa Merrill
) flee to the safety of a tropical island, only to find that the locals have lost their humanity and pose an even greater danger than the undead.
Cast includes Scott Peat, Marissa Merrill, James C. Burns, Corsica Wilson, Marc L. Fusco, Todd Pritchett, Grant Beijon, Kevin O. Matta, Anna Vawser, Greg Weisman, Leishla M. Perez Figeroa and Sean McDonald.