Source: Syfy
schedulebot
[
NOTE: Syfy schedule subject to change(s)
]

CATACLYSMIC MOVIES MARATHON - SYFY: SCHEDULE THURSDAY, JUNE 27, 2013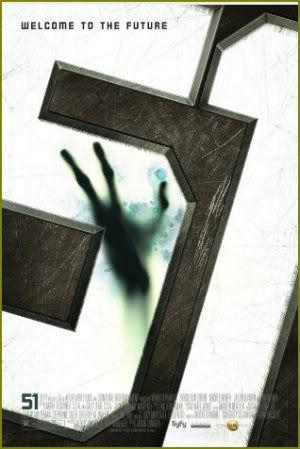 09:00 AM
Area 51
Chronicles what happens after political pressure from the American public forces the Air Force to provide a few well-known reporters with limited access to the most secretive base on the planet:
Area 51
. When one of the base's hidden 'long term visitors' exploits this unprecedented visit as a chance to liberate himself and his fellow alien captives,
Area 51
turns from a secure government base to a horrifying destination of terror.
Cast includes Jason London, Rachel Miner, Vanessa Branch, John Shea, Jillian Batherson and
Babylon 5's
Bruce Boxleitner.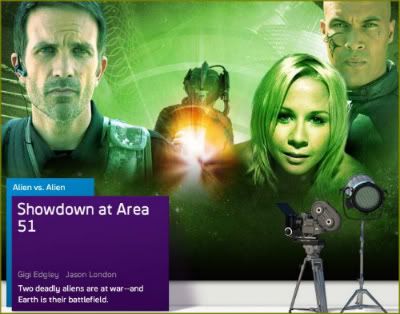 11:00 AM
Showdown At Area 51
Two alien races have crashed on the Earth and are searching for an artifact with the power to destroy the planet.
Cast includes Lee Horsley, Jason London,
Farscape's
Gigi Edgley, Christa Campbell, Coby Bell and Jahidi White.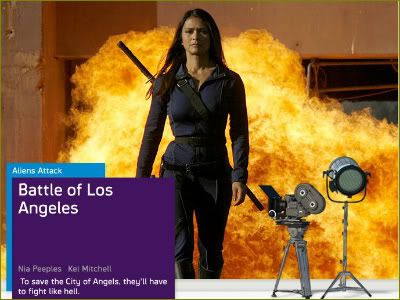 01:00 PM
Battle Of Los Angeles
Alien spacecraft attack Los Angeles in the first wave of an invasion, and humanity's survival depends upon two soldiers who must breach the mother ship and destroy it from within.
Cast includes Nia Peeples, Kel Mitchell, Dylan Vox, Theresa June Tao, Gerald Webb, Edward DeRuiter, Darin Cooper, Robert Pike Daniel and Tim Abell.
03:00 PM
American Warships
When a fleet of mysterious ships wage war against the Earth, only the crew of the
USS Iowa
, the last American battleship, can prevent global armageddon.
Cast includes Mario Van Peebles, Carl Weathers, Johanna Watts, Nikki McCauley, Mandela Van Peebles, Devin McGee, Chris Hayes, April Ezell Wilson, Elijah Chester, James Furey, Sean Patrick Smith, Gray Hawks, Rebecca Goudarzi, Brandon Clark and David Polinsky.
[Time out for encore presentations of
Defiance
and
Warehouse 13
.]
07:00 PM
Megafault
A massive earthquake threatens to split the world in half, prompting a seismologist and a miner to intervene.
Cast includes Brittany Murphy, Eriq La Salle, Bruce Davison,
Smallville's
Justin Hartley, Paul Logan and Jack P. Downing.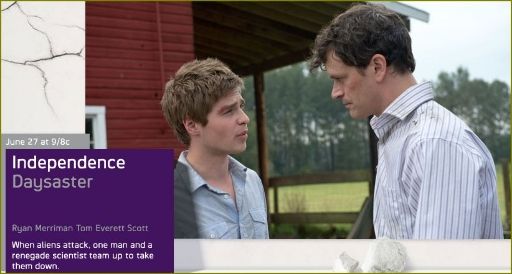 09:00 PM
Independence Day-saster
- Syfy Premiere!
Watch the original movie Independence Daysaster June 27th at 9/8c
When the Earth is attacked by alien machines on the 4th of July, a small town firefighter and a rogue
SETI
scientist team up to activate the only technology capable of defeating the invaders.
Cast includes Ryan Merriman, Tom Everett Scott, Keenan Tracey, Iain Belcher, Michael Kopsa, Jill Teed, Emily Holmes, Andrea Brooks, Garwin Sanford, Lane Edwards, Aaron Craven, Revard Dufresne, Sean Tyson, Nicholas Carella, Grace Sherman and Casey Dubois.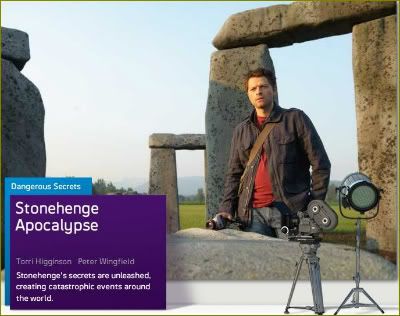 11:00 PM
Stonehenge Apocalypse
A radio talk-show host (
Misha Collins
) tries to warn the world about cataclysms spurred by the titular ancient monument.
Cast includes
Supernatural's
Misha Collins,
Stargate Atlantis'
Torri Higginson,
Sanctuary's
Peter Wingfield, David Lewis,
Fringe's
Michael Kopsa, Brent Stait,
CSI New York's
Hill Harper, David Lovgren, Adrian Holmes, Aaron Pearl and Colin Lawrence.
01:00 AM
Independence Day-saster
03:00 AM
NYC: Tornado Terror
Tornadoes trash the Big Apple after a huge storm system stakes out the skies over New York.
Cast includes Nicole de Boer, Sebastian Spence, Jerry Wasserman, Winston Rekert, Colby Johannson, Tegan Moss, Jill Morrison, Matthew Harrison, Paulo Ribeiro, Jennifer Copping and
Sanctuary's
Agam Darshi.