Source:
TV Guide
[follow link for complete column]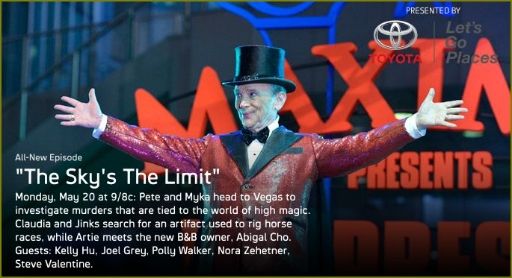 TV GUIDE: The Monday Playlist: Mel Brooks on Masters, Finales (Rectify, Bates Motel), Motive
May 20, 2013
by
Matt Roush
...
THE MONDAY GUIDE
: ... And while he may not sing,
Cabaret
Oscar and Tony winner
Joel Grey
will bring his elfish charm to
Syfy's
Warehouse 13
(10/9c), which was just picked up for a final season of six episodes.
Grey
plays Monty the (not so) Magnificent, a Vegas lounge magician who hopes to spice up his act with the help of an artifact — and we all know how well that tends to turn out.
CLICK HERE TO VIEW THE EPISODE TRAILER FOR 'THE SKY'S THE LIMIT'