Source: Syfy
schedulebot
[
NOTE: Syfy schedule subject to change(s)
]

SAVAGE CRITTERS MOVIE MARATHON - SYFY: SCHEDULE SATURDAY, MAY 11, 2013
09:00 AM
Grendel
Chris Bruno
,
Ben Cross
and
Marina Sirtis
star in this dramatic adaptation of the fantasy epic "
Beowulf
," in which a hero battles a legendary monster.
Cast includes Chris Bruno,
Star Trek: The Next Generation's
Marina Sirtis, Michael J. Minor, Chuck Hittinger, Alexis Peters and Ben Cross.
Source:
You Tube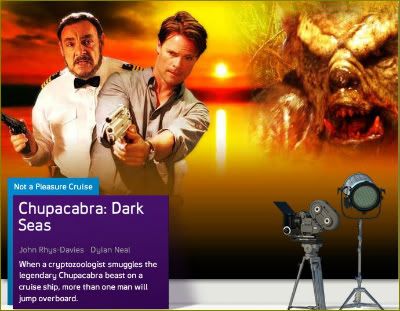 11:00 AM
Chupacabra: Dark Seas
Man-unleashes-uncontrollable-monster yarn pits a ship's crew against a scientist's latest discovery---a mythic Caribbean creature.
Cast includes John Rhys-Davies, Dylan Neal, Chelan Simmons, Giancarlo Esposito, Paula Shaw and David Millbern.
01:00 PM
Raptor Island
Lively paced monster mish-mash starring
Lorenzo Lamas
as a Navy
SEAL
whose pursuit of a terrorist leads his team to a strange island filled with ravenous prehistoric raptors.
Cast includes Lorenzo Lamas, Steven Bauer, Hayley DuMond, Michael Cory Davis, Peter Jason, Hristo Shopov, Atanas Srebrev, Ivo Tonchev, Michail Elenov, Julian Vergov, Pavil Gavrilov, Velislav Pavlov and Dejan Angelov.
03:00 PM
Pterodactyl
A dormant volcano deep with the Turkish forest holds within it a deadly secret. Perfectly preserved, a nest of pterodactyl eggs are ready to hatch.
Cast includes Cameron Daddo, Coolio, Amy Sloan, George Calil, Ivo Cutzarida, Steve Braun, Mircea Monroe and
Stargate Atlantis'
David Nykl.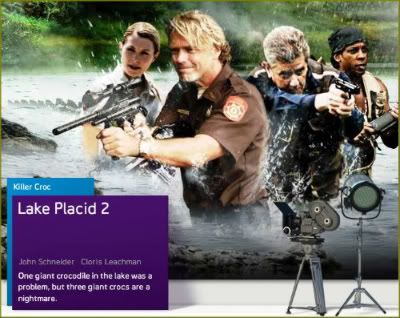 05:00 PM
Lake Placid 2
The quirky residents of
Lake Placid
once again become gator bait in this horror sequel. Eight years after the town was devastated by a giant crocodile, the creature's numerous offspring return for some human snacks of their own. It's up to the local sheriff (
John Schneider
), his ex-girlfriend, an
EPA
agent and a professional croc hunter to stop the bloodthirsty beasts before they kill again.
Guest includes John Schneider, Sarah Lafleur, Sam McMurray, Chad Michael, Alicia Ziegler, Joe Holt, Ian Reed Kesler, Justin Urich and Cloris Leachman.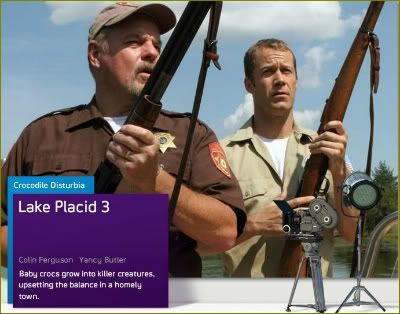 07:00 PM
Lake Placid 3
A game warden (
Colin Ferguson
) moves into his aunt's lakeside cabin with his wife and young son, and the little boy feeds the resident baby crocodiles until they grow up into monstrous predators that become a menace to the family.
Cast includes
Eureka's
Colin Ferguson, Yancy Butler, Kirsty Mitchell, Kacey Barnfield, Jordan Grehs, Michael Ironside, Angelica Penn and Bianca Ilich.
09:00 PM
Rise Of The Dinosaurs
(original title:
Jurassic Attack
)
- Syfy Premiere!
While returning from a military expedition to rescue a beautiful kidnapped scientist an elite commando unit crash lands in a dense, remote tropical jungle. The commandos find themselves cut off from radio contact in a lost world populated by dinosaurs. Hunted on all sides and with their ammunition dwindling they must find a way to escape and return to civilization before becoming prey to the prehistoric predators.
Cast includes Gary Stretch,
Stargate SG-1's
Corin Nemec, Vernon Wells, Michael Worth, Natascha Berg, Alicia Ziegler, Israel Sáez de Miguel, Adrian Clissold, Philip Coc, Ganney Dortch, Aaron Erskine, John Frear, Stevie Hack, Kameisha Harris, Adran Ramirez, Jason Taylor and Berne Velasquez.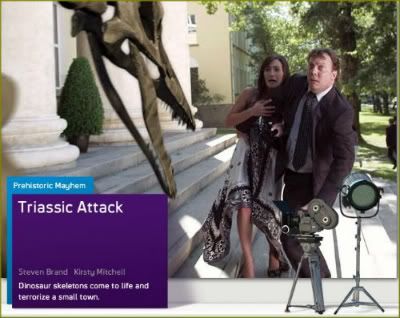 11:00 PM
Triassic Attack
Three dinosaurs wreak havoc on a small town and a local university after the owner of a kitschy roadside museum accidentally brings three fossils to life. Directed by
Eureka's
Colin Ferguson
.
Cast includes Steven Brand, Kirsty Mitchell, Jordan Bonev, Nathalie Buscombe,
Game of Thrones'
Emilia Clarke, Lincoln Frager and Veselina Ilieva.
01:00 AM
Raptor Island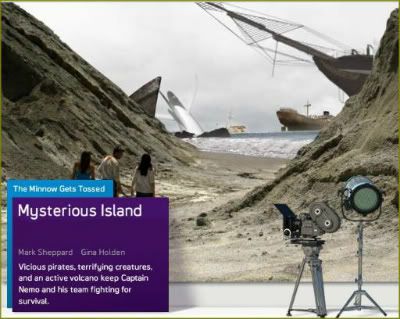 03:00 AM
Jules Verne's The Mysterious Island
A group of stranded people try to escape from a mysterious island that's home to an active volcano, pirates and terrifying creatures in this adaptation of the
Jules Verne
tale.
Cast includes Gina Holden, Lochlyn Munro, Pruitt Taylor Vince, Susie Abromeit, Mark Sheppard, J.D. Evermore, Edrick Browne, Caleb Michaelson and William Morgan Sheppard. Directed by
Mark Sheppard
.