Source: Syfy
schedulebot
[
NOTE: Syfy schedule subject to change(s)
]

SANCTUARY - SYFY: SEASON FOUR SCHEDULE JUNE 2013
Sanctuary season four cast includes Amanda Tapping, Robin Dunne, Ryan Robbins, Christopher Heyerdahl and Agam Darshi.
Jun 11 03:00 AM
Tempus
Magnus (
Amanda Tapping
) goes to 1898 London to try to stop Adam Worth (
Ian Tracey
) from saving his daughter, which would alter the current time line in the Season 4 premiere.
Guest stars include Peter Wingfield, Ian Tracey and Margot Berner.
Jun 18 03:00 AM
Uprising
Hollow Earth Abnormals amass at the surface with the Lotus Security Forces poised to take action as Magnus' (
Amanda Tapping
) people try to prevent an all-out war between humans and Abnormals.
Guest stars include Pascale Hutton, Jody Thompson, Françoise Yip, Tom McBeath, Robert Lawrenson, David Milchard and Fraser Aitcheson.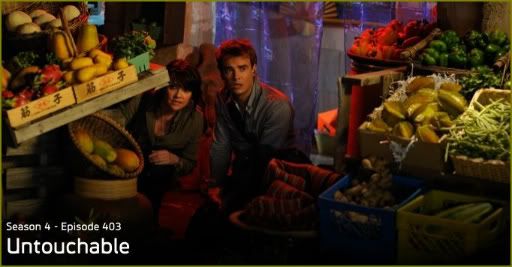 Jun 25 03:00 AM
Untouchable
Magnus (
Amanda Tapping
) must explain a mission that went awry to a
UN
official as the
Sanctuary
faces scrutiny following the barely averted Abnormal uprising; Will's (
Robin Dunne
) girlfriend (
Pascale Hutton
) turns up with an unforeseen problem.
Guest stars include Pauline Egan,
Continuum's
Brian Markinson, Lara Gilchrist and Once
Upon A Time's
Mig Macario.