Source: Syfy
schedulebot
[
NOTE: Syfy schedule subject to change(s)
]

MYTHOLOGICAL CRITTERS MOVIE MARATHON - SYFY: SCHEDULE SATURDAY, MAY 4, 2013
10:00 AM
Merlin And The War Of The Dragons
During Arthurian times, a fledgling wizard (
Simon Lloyd Roberts
) does battle with an evil sorcerer and his army of flying, fire-breathing beasts.
Cast includes Simon Lloyd-Roberts, Joseph Stacey, Dylan Jones, Hefin Wyn, Jürgen Prochnow, William Huw, Gary Twomey and Carys Eleri.
12:00 PM
Dragon Wars
A reporter finds himself thrust into a battle against fire-breathing dragons that attack modern-day Los Angeles in this goofy creature feature.
Cast includes Jason Behr, Jesse Jam Miranda, Amanda Brooks, Robert Forster, Chris Mulkey and Elizabeth Peña.
02:00 PM
Fire And Ice
An ice dragon is summoned to save a kingdom from a fire dragon in this fantasy tale.
Cast includes Amy Acker, Tom Wisdom, John Rhys-Davies, Arnold Vosloo, Razvan Vasilescu, Oana Pellea, Cabral Ibacka and Ovidiu Niculescu.
04:00 PM
Flying Monkeys
A teenage girl thinks that the monkey she owns is her innocent pet, but it turns out to be something much more dangerous - an evil shapeshifter capable of unthinkable acts no loyal pet would ever be able to perform.
Cast includes Vincent Ventresca, Electra Avellan, Alvin Chon, Christopher Matthew Cook, Tyler Forrest, Mike Kimmel, David Kranig, Maika Monroe, Lee Nguyen, Brian Oerly, Michael Papajohn, Dane Rhodes, Sydney Trager, Jackie Tuttle, Zac Waggener, Ricky Wayne and Boni Yanagisawa.
06:00 PM
Chupacabra Vs. The Alamo
A horde of Chupacabras attacks the area around San Antonio, and in order to put these blood-sucking monsters back in their place, a
DEA
agent (
Erik Estrada
) and a band of outlaw gangsters retreat to the Alamo together for one last last stand.
Cast includes
Stargate Universe's
Julia Benson,
CHIPS'
Erik Estrada, Aleks Paunovic, Zak Santiago,
Stargate Atlantis'
David Nykl, Samuel Patrick Chu, Anja Savcic, Vanesa Tomasino, Jorge Vargas, Madison Smith, Bishop Brigante and Nicole Muñoz.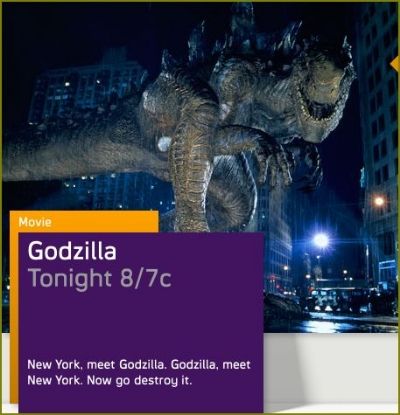 08:00 PM
Godzilla
- Syfy Premiere!
Special-effects vehicle in which a scientist (
Matthew Broderick
) teams with a mysterious agent (
Jean Reno
) to try to stop the massive, radioactive lizard from smashing Manhattan.
Cast includes Matthew Broderick, Jean Reno, Maria Pitillo, Hank Azaria, Kevin Dunn, Michael Lerner, Harry Shearer, Arabella Field, Vicki Lewis, Doug Savant, Nancy Cartwright, Richard Gant, Clyde Kusatsu and Glenn Morshower.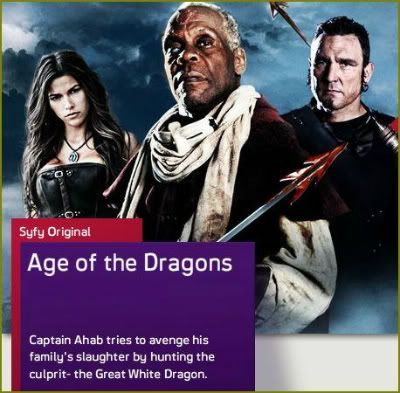 11:00 PM
Age Of The Dragons
Danny Glover
stars as an obsessed Ahab who seeks revenge on the fire-breathing dragon that killed his family and left him horribly scarred in this re-imagining of the classic novel "
Moby Dick
."
Cast includes Danny Glover, Vinnie Jones, Corey Sevier, Sofia Pernas, Larry Bagby, Kepa Kruse and David Morgan.
01:00 AM
Wyvern
The residents of a small Alaskan town find themselves under attack by a flying reptile known in medieval mythology as a
Wyvern
. It has thawed from its ancient slumber by melting icecaps caused by global warming.
Cast includes Nick Chinlund, Erin Karpluk, Barry Corbin, Elaine Miles, Tinsel Korey,
Stargate SG-1's
Don S. Davis and David Lewis.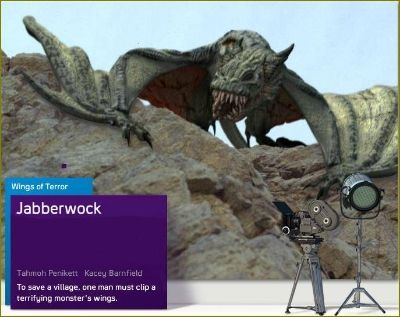 03:00 AM
Jabberwock
A sword-wielding hero (
Tahmoh Penikett
) tries to rescue the woman he loves from the lair of a dragon-like monster.
Cast includes
Battlestar Galactica's
Tahmoh Penikett, Michael Worth, Kacey Barnfield, Ian Virgo, Hugh Ross, Richard Riddell, Rafaello Degrutolla, with Steve Waddington.