Source: Syfy
schedulebot
[
NOTE: Syfy schedule subject to change(s)
]

ACTION MOVIE MARATHON - SYFY: SCHEDULE MONDAY, APRIL 29, 2013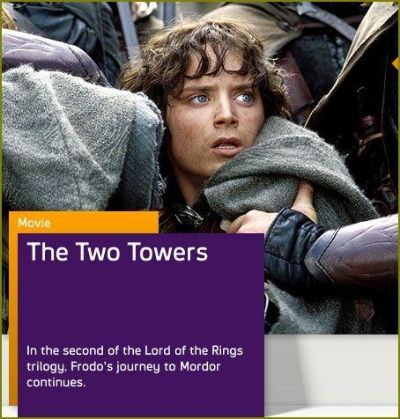 09:00 AM
Lord Of The Rings: The Two Towers
The second chapter of director
Peter Jackson's
epic trilogy is packed with spectacular action and fierce battle scenes as Frodo (
Elijah Wood
) continues on his quest to destroy the evil ring. The film won an Academy Award for its visual effects and was nominated for a total of six Oscars, including Best Picture.
Cast includes Sean Astin, Cate Blanchett, Orlando Bloom, Billy Boyd, Brad Dourif, Bernard Hill, Paris Howe Strewe, Christopher Lee, Ian McKellen, Dominic Monaghan, Viggo Mortensen, Miranda Otto, Craig Parker, John Rhys-Davies, Andy Serkis, Liv Tyler, Karl Urban, Hugo Weaving, David Wenham and Elijah Wood.
01:00 PM
V For Vendetta
Stylish allegorical thriller about a masked avenger known as V, who leads a revolution in a futuristic, totalitarian Britain.
Cast includes Natalie Portman, Hugo Weaving, Stephen Rea, Stephen Fry, John Hurt, Tim Pigott-Smith, Rupert Graves, Roger Allam, Ben Miles, Sinéad Cusack, Natasha Wightman, Eddie Marsan and Clive Ashborn.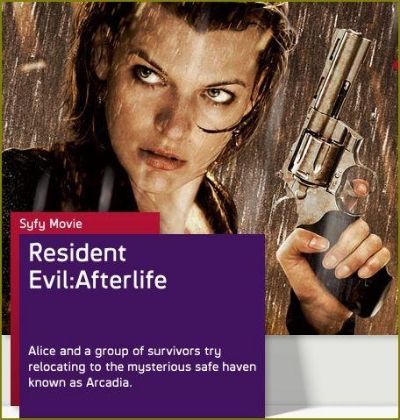 04:00 PM
Resident Evil: Afterlife
Five years after a zombie virus decimated mankind, Alice (
Milla Jovovich
) still searches tirelessly for survivors in Los Angeles with the help of an old friend. But their rescue mission turns grim when Alice sees that the city has been overrun by zombies, and they quickly realize they've stumbled into a diabolical trap.
Cast includes Milla Jovovich, Ali Larter, Kim Coates, Shawn Roberts, Sergio Peris-Mencheta, Spencer Locke, Boris Kodjoe, Wentworth Miller, Sienna Guillory, Kacey Barnfield and Fulvio Cecere.
06:00 PM
The Scorpion King
The Rock
reprises his role from 2001's "
The Mummy Returns
" in this adventure about an assassin's efforts to trounce an evil conqueror (
Steven Brand
).
Cast includes Dwayne Johnson (The Rock), Steven Brand, Michael Clarke Duncan, Kelly Hu, Bernard Hill, Grant Heslov, Peter Facinelli, Ralf Moeller, Branscombe Richmond, Roger Rees, Sherri Howard, Conrad Roberts and Joseph Ruskin.