Source:
GateWorld
[follow link for additional listening options and/or read the audio interview transcript]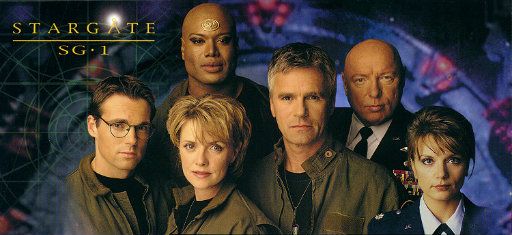 GATEWORLD: Defiant One
February 14, 2013
by
David Read
GateWorld
has had the privilege of sitting down with well over a hundred
Stargate
contributors over the years, talking about their experiences from each of the series. There are, however, a few that have slipped through our grasp for one reason or another. Now we finally get to catch up with one of our favorites.
We've been a fan of actor
Dion Johnstone
ever since his original appearance as Nelson in the
SG-1
Season Three episode episode "
Rules of Engagement
," and followed him all the way from Chaka, Lieutenant Tyler, Wodan and Warrick. The young actor has kept himself occupied with a great number of theater projects in recent years. Soon returning to television in the upcoming TV series
Defiance
,
Johnstone
recently took time to reminsce with us down
Stargate
memory lane and talk about what is in store for the future.
GateWorld's interview
with
Dion Johnstone
runs just over 38 minutes and is available in audio for your listening pleasure. It is also transcribed [at the link above]....
A brief excerpt:
GateWorld
: ... Did you audition for any roles on
SG-1
that you didn't get that you really wanted?
Dion Johnstone
: [Laughter] "
Funny enough, my first episode, I didn't audition for Nelson. I auditioned for Captain Rogers. And that was a role that I wanted and found I didn't get it but had been cast. And I thought, "Well, that's great," because this is still my first gig.

Funny enough, the guy who ended up playing Rogers, Aaron Cravin, this was also his first gig, so the two of us met on the day they invited us to set, and became fast friends. As we were shooting the episode they were still doing a lot of tweaking and rewrites. Then we hit the point of the final scene of "Rules of Engagement" and they were still having trouble with the writing of it.

So we went into our trailer and just started hashing out a couple of different ideas, different ways of how to resolve the final lines of text, came up with an idea, went up to the director, Bill Gereghty, who was directing, and said "What do you think about this?" He ran it by the producers and said "We love it! Do it!"

I remember here we are shooting and at one point he said "Yeah, just point he cameras on them. We want to focus on Dion and Aaron." And after that, through that experience, we became really good friends and have maintained a close friendship ever since. It's funny, it wasn't the role that I had gone for but it opened up a whole bunch of doors...
"
...
GateWorld
: ... 2013, you're going to be a busy man. Tell us what you can about participating in
Defiance
. Everyone's excited about this series.
Dion Johnstone
: "
Oh yeah, I'm excited. Very excited. It premieres April 15, 2013, and it's a cross-platform between an online game that you can play and the TV series which you can watch, and events that happen in the show also are translated and take place in the game, so it's happening simultaneously. Although there are two different cities within the world that [is] taking place. So all the gameplay that you do is in a different city as the show is set.

For me it was really exciting. I play a character called Nizar. He's of an alien race called the Irathients. He's a spirit rider, which is sort of like a "Hell's Angels" of the Irathients. They're very dramatic and tribal and aggressive bunch of people. Their leader is Sukar. It was fascinating because the production of Defiance, there's maybe five, possibly seven different alien species that we meet throughout the show. It's not just one. And they all have their own languages. Quite a lot of my text was in Irathient..."
Defiance
premieres on Syfy on Monday, April 15, 2013 at 9/8C with a two-hour premiere episode.
Defiance cast includes Tony Curran, Jaime Murray, Julie Benz, Mia Kirshner, Grant Bowler, Stephanie Leonidas, Graham Greene, and Dion Johnstone.
Defiance website.
Defiance Facebook
Defiance Twitter
DOWNLOAD AUDIO INTERVIEW