Source: Cloo TV
schedulebot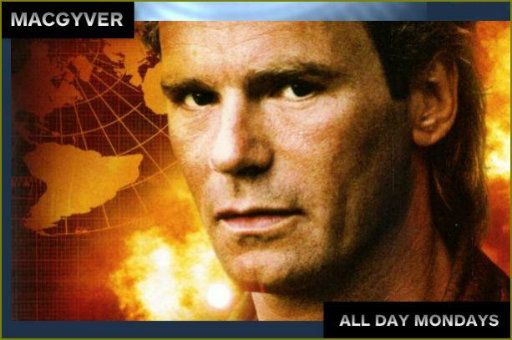 MACGYVER - CLOO TV: SEASON ONE MARATHON SCHEDULE MONDAY, FEBRUARY 11, 2013
MacGyver cast includes Richard Dean Anderson (as Angus MacGyver) and Dana Elcar as Peter Thornton.
06:00 AM
THE GOLDEN TRIANGLE
MacGyver
is taken for a narc when he tries to retrieve a canister filled with a deadly chemical from a plane that crashed in Burma.
Guest stars include Joan Chen, George Cheung, Clyde Kusatsu, Keye Luke, Benjamin Lum, Bryan Price and James Saito.
07:00 AM
THIEF OF BUDAPEST
In Budapest, a Gypsy steals a watch containing microfilm that
MacGyver
was supposed to receive from a Soviet double agent.
Guest stars include Michael Constantine, Bruce Abbott, Kelly McClain, E.M. Margolese, Charles Raymond, Robert Hallak, John Prudhont, Sid Haig, Nicholas Kadi, Charles Joseph Martin, T. Lee Griffin and Jim Gosa.
08:00 AM
THE GAUNTLET
MacGyver
helps an investigative reporter (
Robin Curtis
) get out of a Latin American country with incriminating evidence linking a general to an illegal arms dealer.
Guest stars include Robin Curtis, John Vernon, Gregory Sierra, Sam Vlahos, Marco López and Socrates Ballis.
09:00 AM
THE HEIST
MacGyver
must get into a Virgin Islands casino vault to recover $60 million in diamonds that belong to a U.S. famine-relief charity.
Guest stars include Vernon Wells, Victoria Bass, John Carter, Doran Clark, Larry D. Mann, Richard Jamison, Michael Francis Kelly and Patrick Francis Flannery.
10:00 AM
TRUMBO'S WORLD
MacGyver
helps a plantation owner defend his land from ants denuding the jungle (in clips from the 1954 movie "
The Naked Jungle
").
Guest stars include David Ackroyd,
Babylon 5's
Peter Jurasik, Will Gotay, Maurice Sherbanee, Melinda Peterson and Simone Boisseree.
11:00 AM
DEATHLOCK
MacGyver
is caught in a mansion that's been booby-trapped electronically by an old nemesis.
Guest stars include Wendy Schaal, Christopher Neame and Beulah Quo.
12:00 PM
FLAME'S END
An old friend of
MacGyver's
, who uncovered a theft from a nuclear processing plant, thinks someone is trying to kill her.
Guest stars include Tannis G. Montgomery, Conlan Carter, Robert Englund, Robin Pearson Rose, William Washington, Roger Hampton and Ed Williams.
01:00 PM
THE GOLDEN TRIANGLE
02:00 PM
THIEF OF BUDAPEST
03:00 PM
THE GAUNTLET
04:00 PM
THE HEIST
05:00 PM
TRUMBO'S WORLD
06:00 PM
LAST STAND
MacGyver
stumbles into a hostage situation at a desert airstrip that armored-car robbers have taken over while awaiting their flight out of the country.
Guest stars include Harry Caesar, Steve Franken, Jackie Earle Haley, Art Hindle, Kay Lenz, Michael McGuire, Anthony Pena and Lewis Van Bergen.
07:00 PM
HELLFIRE
MacGyver
helps a friend cap an oil-well fire that's burning out of control.
Guest stars include Cooper Huckabee,
Star Trek: Deep Space Nine's
Nana Visitor and Rudy Ramos.
08:00 PM
THE PRODIGAL
MacGyver
must devise a way for a witness, who's testifying against his brother, to visit his dying mother.
Guest stars include Richard Romanus, Robert Romanus, Carl Franklin, Angela Clarke, Michael Champion, Tom Ormeny, Katherine Wallach, James Hess, Stan Kamber and Mario Roberts.
09:00 PM
TARGET MACGYVER
While visiting his estranged grandfather in Colorado,
MacGyver
is hunted down by a contract killer.
Guest stars include John Anderson, D'Mitch Davis, William Frankfather, Robert Miano and Huck Liggett.
10:00 PM
NIGHTMARES
*
Excellent Episode!
*
MacGyver
escapes from foreign agents---after being injected with a hallucinogen that will kill him in six hours if he can't get the antidote.
Guest stars include Tammy Lauren,
Star Trek: The Next Generation's
Robert O'Reilly, J.P. Bumstead, Michael Mancini, Tommy Lamey, J. Michael Flynn and Kimberley Pistone.
11:00 PM
DEATHLOCK
12:00 AM
FLAME'S END
01:00 AM
LAST STAND
02:00 AM
HELLFIRE
03:00 AM
THE PRODIGAL
04:00 AM
TARGET MACGYVER
05:00 AM
NIGHTMARES