Source:
SFX Magazine
[follow link for complete intervew]
SFX MAGAZINE: Being Human Series 5: Cast Interviews
Being Human
returns to BBC Three for a fifth series on Sunday 3 February at 10pm. Here are four interviews with the main stars from the official BBC press pack.
Being Human
season five also premieres in the US on BBC America in 2013.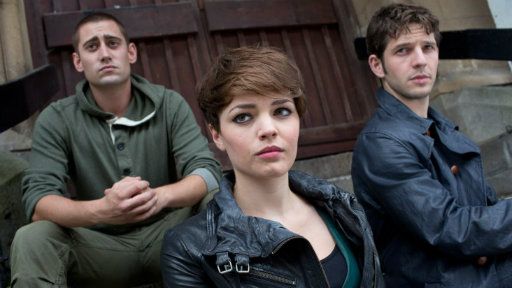 Being Human 5's Michael Socha, Kate Bracken, and Damien Molony
SFX Magazine: What's happening at the beginning of the new series?
Damien Molony
(Hal): "
At the beginning of series five, Hal is pretty much where we left him. He's tied to a chair, off the blood, but the only real difference is he's been here for a while, so he's got a beard, he's sweaty and craving blood. The house is a complete mess. Alex is tearing things open looking for taste, looking for smells… any kind of sensation really that she now can't have because she's a ghost. Tom is just getting all kinds of takeaways and destroying the house in front of Hal's eyes. So Hal is desperate to get out and clean it up, to bring some order and control to the house but the horrible thing is he doesn't trust himself because he might go back on the blood...
"
...
SFX Magazine: What will the fans see in Alex?
Kate Bracken
(Alex): "
From episode one you see a vulnerability to Alex, and you see it finally hitting home that she isn't going to be able to do all the things she used to. At one point, it really hits her that she's actually dead! So she hasn't fully adjusted, and we see her trying coming to terms with her death. But Alex is also someone who won't dwell on things too much. She will pick herself up and dust herself off. It's about how she changes from being vulnerable to thinking, 'How can I make this situation better? How can I contribute?' Alex can always see the good in people, even when they can't....
SFX MAGAZINE: How is Tom adjusting to all the changes?
Michael Socha
(Tom): "
Tom's definitely better adjusted to being 'human', especially since he has experienced life a bit more. But he's still confused about a lot of things; things we probably take for granted. He's still learning and gets confused about aspects of life because Tom has lived in quite a black and white world, but now he understands that there are depths to people and there isn't just love and anger, there are loads of aspects to the world he isn't sure of. It's hard for Tom but he's grown up an awful lot...
"
SFX Magazine: What can you tell me about Captain Hatch?
Phil Davis
(Captain Hatch): "
He's pretty disgusting, nasty, spiteful, old man, at least to start with. Captain Hatch is very sick, he's in a wheelchair and he suffers from all kind of ailments, but as he manages to set the vampire and the werewolf against each other, he gets more powerful and it restores his health. By the end he's able to do all the things he couldn't do to start with...
"