Source:
The Province
[follow link for complete interview]

THE PROVINCE: Actor cross skips between TV sets
By
Glen Schaefer
December 30, 2012
It's been a crazy 2012 for Vancouver actor
Roger Cross
. 2013 is shaping up as more of the same as he juggles work on no less than three TV series...
...
Cross
started out 2012 with work on
Continuum
, another Canadian series, playing one of those ambiguous bad-guys — a terrorist leader from the future whose gang comes to present-day Vancouver to thwart a future corporate dictatorship.
Continuum
was a ratings hit when it debuted on Canada's Showcase and was picked up for broadcast in the U.S. and Europe.
The work piled up further for
Cross
when, during a break in his
Continuum
schedule last spring, the actor filmed the pilot episode for the Vancouver-filmed CW series
Arrow
. That comic book-based U.S. series went into production in July and filming will continue to next April...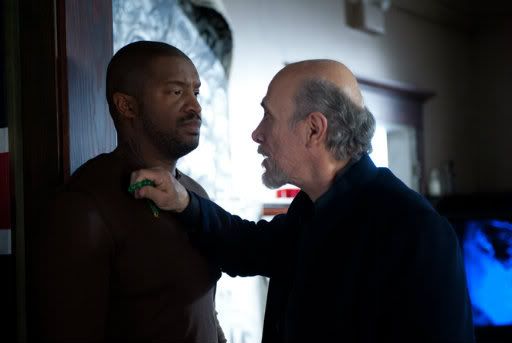 Roger R. Cross and Tony Amendola from Continuum
... And as 2013 approaches,
Continuum
has announced a mid-January start on four months filming for its second season. So from then until the end of February,
Cross
will be hop-scotching between three sets. [
Continuum
,
Arrow
, and
Motive
.]
"
In January is when it gets really dicey,
" he says. "
I have the feeling the first few episodes of Continuum will look a little busy.
"
Nevertheless,
Cross
is gratified that two of his three series are home-grown Canadian.
"
We have the talent here, but everyone's been shipped everywhere else,
" he says. "
Now to see it all come together, that's what I love about this town, we're competing with everyone
."
Continuum
premieres in the US on Monday, January 14, 2013 at 8/7C. Cast includes Rachel Nichols, Victor Webster, Erik Knudsen, Stephen Lobo, Richard Harmon, Roger R. Cross,
Stargate SG-1's
Tony Amendola, Brian Markinson and
Stargate Universe's
Jennifer Spence.
Arrow
airs on Wednesday at 8/7C on The CW.
Motive
airs in Canada on CTV.