Source: Syfy
schedulebot
[
NOTE: Syfy schedule subject to change(s)
]
HAVEN - SYFY: SEASON THREE DECEMBER 2012 SCHEDULE
Haven season three cast includes Emily Rose, Lucas Bryant, Eric Balfour, Richard Donat, John Dunsworth, Kate Kelton and Bree Williamson.
[
NOTE: Updated December 21, 2012
]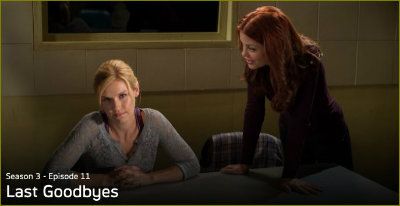 Dec 7 10:00 PM
Last Goodbyes
Dec 8 12:00 AM
Last Goodbyes
Audrey awakens to find Haven deserted and the town's residents asleep-- except for one man.
Guest stars include Jeff Kassel, Nolan North and Christopher Shore.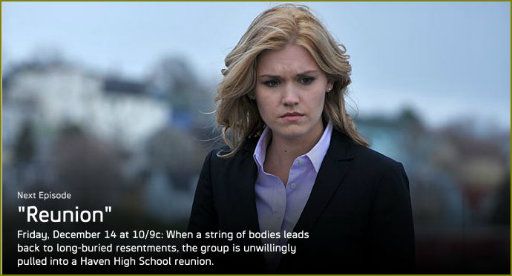 Dec 14 10:00 PM
Reunion
[
NOTE: December 14, 2012 - In wake of the Sandy Hook Elementary School shootings in Newtown, CT, Syfy decided to NOT air this episode on Dec 14. In its place, Syfy aired the animated holiday episode of Eureka, 'Do You See What I See.'
]
[
NOTE: Update December 21, 2012: Syfy has rescheduled both Reunion and Thanks for the Memories to air on Thursday, January 17, 2013 beginning at 8PM. CLICK HERE FOR UPDATED INFORMATION.
]
Nathan (
Lucas Bryant
) and Duke (
Eric Balfour
) go back to their high school to help Audrey (
Emily Rose
) apprehend a troubled killer who is wreaking havoc at a student reunion.
Guest stars include Shaun Benson, Angela Besharah, Christopher Shore and Laura Vandervoort.
HAVEN - SYFY: SEASON THREE MARATHON THURSDAY, DECEMBER 20, 2012 - CLICK HERE FOR SCHEDULE
Dec 21 10:00 PM
Thanks For The Memories
[This episode was pre-empted on December 21.]
Source:
NBCUMV Press Release
[follow link for complete press release]
Season three of Syfy's hit series
Haven
comes to an explosive conclusion on Friday, December 21 at 10PM (ET/PT) when Audrey (
Emily Rose
), Nathan (
Lucas Bryant
) and Duke (
Eric Balfour
) square off against the Bolt Gun Killer – and Audrey's own life-threatening fate.
In this conclusion of her two-episode story arc, guest star
Laura Vandervoort
(
Smallvillle
) plays a woman driven to the brink of madness by love.
With all of the mysteries Audrey has been investigating—the Bolt Gun Killer, the search for her son, The Guard and her own past in Haven—converging at the same place and time, Audrey must face hard truths and make a terrible decision as the very existence of
Haven
hangs in the balance.
Guest stars include Laura Vandervoort, Maurice Dean Wint and Bernard Robichaud.
Dec 21 11:00 PM
Silent Night
Dec 22 12:00 AM
Thanks For The Memories
Dec 26 01:00 AM
Silent Night