Source: Syfy
schedulebot
[
NOTE: Syfy schedule subject to change(s)
]
MEGA CRITTERS MOVIE MARATHON - SYFY: SCHEDULE SATURDAY, SEPTEMBER 29, 2012
[
NOTE: Updated September 17, 2012
]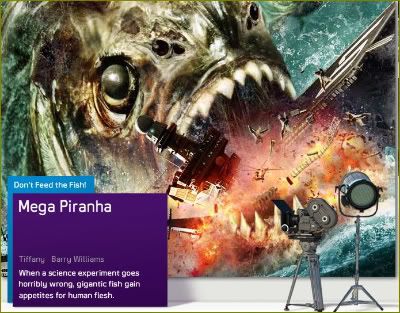 09:00 AM
Mega Piranha
Giant mutant piranha escape from the Amazon and head for Florida.
Cast includes Paul Logan, Tiffany, Barry Williams, David Labiosa, Jude Gerard Prest and Jesse Daly.
11:00 AM
Mega Python Vs. Gatoroid
Monstrous reptiles clash in the Florida Everglades when giant pythons threaten the alligator population.
Cast includes Deborah Gibson, Tiffany, A Martinez, Kathryn Joosten, Kevin M. Horton and Carey Van Dyke.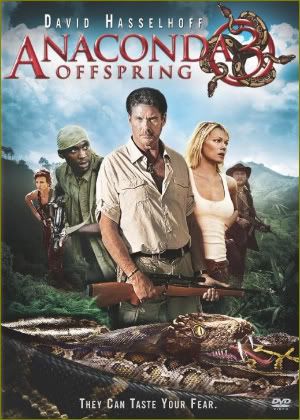 01:00 PM
Anaconda 3
A hunt for two massive snakes is launched following their escape from a research facility where their longevity was studied.
Cast includes David Hasselhoff, Crystal Allen, Ryan McCluskey, Patrick Regis, Anthony Green and John Rhys-Davies.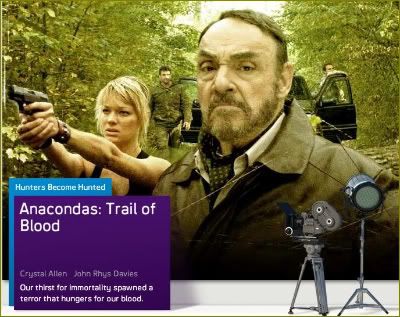 03:00 PM
Anacondas: Trail Of Blood
A genetically created Anaconda, cut in half, regenerates itself into two aggressive giant snakes, due to the Blood Orchid.
Starring Crystal Allen, Linden Ashby, Danny Midwinter, Ana Ularu, Claudiu Bleont, Anca-Ioana Androne and John Rhys-Davies.
05:00 PM
Anaconda
Thriller about a documentary team that heads for the Brazilian jungle to search for a remote native tribe, but ends up fleeing from a giant snake
Cast includes Jennifer Lopez, Ice Cube, Jon Voight, Eric Stoltz, Jonathan Hyde, Owen Wilson, Kari Wuhrer, Vincent Castellanos and Danny Trejo.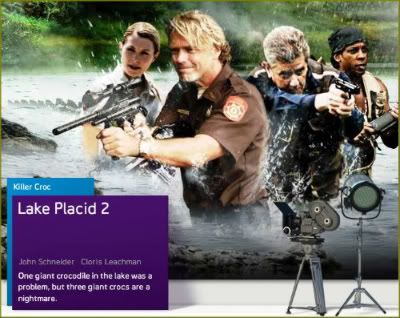 07:00 PM
Lake Placid 2
The quirky residents of Lake Placid once again become gator bait in this horror sequel. Eight years after the town was devastated by a giant crocodile, the creature's numerous offspring return for some human snacks of their own. It's up to the local sheriff (John Schneider), his ex-girlfriend, an EPA agent and a professional croc hunter to stop the bloodthirsty beasts before they kill again.
Guest includes John Schneider, Sarah Lafleur, Sam McMurray, Chad Michael, Alicia Ziegler, Joe Holt, Ian Reed Kesler, Justin Urich and Cloris Leachman.
09:00 PM
Lake Placid: The Final Chapter - Syfy Premiere!
A new sheriff has a big problem on her hands when a poacher unleashes the wrath of giant crocodiles in the fourth installment of the campy horror movie franchise.
Cast includes Daniel Black, Yancy Butler, Zara Dimitrova, Robert Englund, Caroline Ford, Poppy Lee Friar, Elisabeth Röhm, Benedict Smith, Jeff Stewart, Jonas Talkington and Sewell Whitney.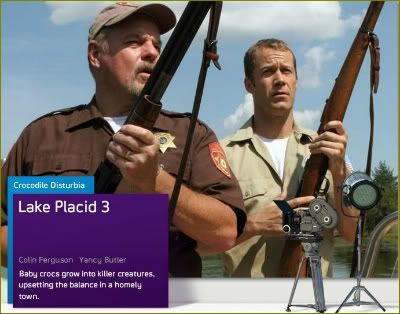 11:00 PM
Lake Placid 3
A game warden (
Colin Ferguson
) moves into his aunt's lakeside cabin with his wife and young son, and the little boy feeds the resident baby crocodiles until they grow up into monstrous predators that become a menace to the family.
Cast includes
Eureka's
Colin Ferguson, Yancy Butler, Kirsty Mitchell, Kacey Barnfield, Jordan Grehs, Michael Ironside, Angelica Penn and Bianca Ilich.
01:00 AM
Lake Placid: The Final Chapter
03:00 AM
Lake Placid 2