Source: Syfy
schedulebot
[
NOTE: Syfy schedule subject to change(s)
]
SUPERNATURAL MOVIE MARATHON - SYFY: SCHEDULE SUNDAY, JUNE 24, 2012
10:30 AM
The Amityville Horror
(2005)
The unimaginative remake of the 1979 chiller stars
Ryan Reynolds
and
Melissa George
as the new owners of a haunted house on Long Island.
Cast includes Ryan Reynolds, Melissa George, Jesse James, Jimmy Bennett, Chloë Grace Moretz, Rachel Nichols, Philip Baker Hall, Isabel Conner and Brendan Donaldson.
12:30 PM
Jeepers Creepers
A brother and sister's road trip takes a surprising turn when they encounter a terrifying supernatural being.
Cast includes Justin Long, Gina Philips, Jonathan Breck,
Bones'
Patricia Belcher and Eileen Brennan.
02:30 PM
Jeepers Creepers 2
Writer-director
Victor Salva'
s inevitable follow-up to the surprise success
JEEPERS CREEPERS
(2001) picks up immediately after the events of the first film, in which a mysterious demon — the Creeper — emerges from its cyclical hibernation to devour unwary country folk.
Cast includes Ray Wise, Jonathan Breck, Garikayi Mutambirwa, Eric Nenninger, Nicki Aycox, Travis Schiffner, Lena Cardwell and Billy Aaron Brown.
04:30 PM
Resident Evil: Apocalypse
Milla Jovovich
does battle with zombies and a sinister corporation in a sequel that covers much of the same scary ground as the original.
Cast includes Milla Jovovich, Sienna Guillory, Oded Fehr, Thomas Kretschmann, Sophie Vavasseur, Razaaq Adoti, Jared Harris and Mike Epps.
06:30 PM
Signs
Downbeat family drama and supernatural menace converge in writer-director
M. Night Shyamalan's
low-voltage thriller. Recently widowed Episcopalian minister Graham Hess (
Mel Gibson
), who experienced a spiritual crisis when his wife died in a freak accident, must weather a dark night of the soul with only common sense to guide him. Without his faith, Graham is hard put to cope with the increasingly ominous phenomena that follow the mysterious appearance of giant crop circles in the corn field behind the farmhouse he shares with his youngsters, Morgan (
Rory Culkin
) and Bo (
Abigail Breslin
), and his younger brother, Merrill (
Joaquin Phoenix
).
Cast includes Mel Gibson, Joaquin Phoenix, Rory Culkin, Abigail Breslin,
Awake's
Cherry Jones, M. Night Shyamalan, Patricia Kalember, Ted Sutton, Merritt Wever, Lanny Flaherty and Marion McCorry.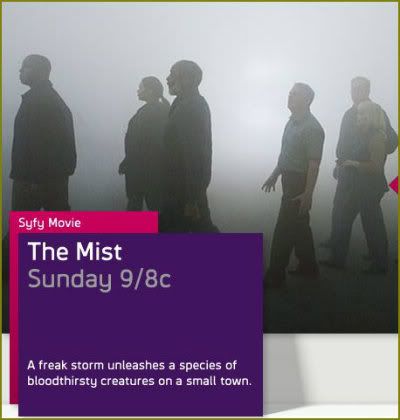 09:00 PM
The Mist
Stephen King's
apocalyptic chiller about a group of people who are trapped in a grocery store by a strange mist that unleashes an army of deadly creatures.
Cast includes Thomas Jane, Marcia Gay Harden, Laurie Holden, Andre Braugher, Toby Jones, William Sadler and
Being Human's
Sam Witwer.
11:30 PM
Dead Silence
Scare fare about a man (
Ryan Kwanten
) who suspects that a late ventriloquist's doll is responsible for his wife's grotesque murder.
Guest includes Ryan Kwanten, Amber Valletta,
Blue Blood's
Donnie Wahlberg, Michael Fairman, Joan Heney, Bob Gunton, Laura Regan and Dmitry Chepovetsky.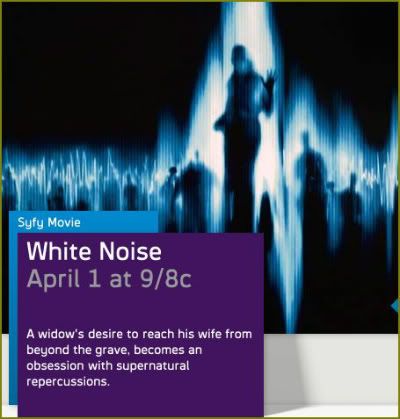 01:30 AM
White Noise
After his wife dies, an architect (
Michael Keaton
) becomes obsessed with contacting her spirit through the use of electronic equipment.
Cast includes Michael Keaton, Chandra West, Deborah Kara Unger, Ian McNeice, Sarah Strange, Nicholas Elia, Mike Dopud, Keegan Connor Tracy, Aaron Douglas and Mitchell Kosterman.
03:30 AM
Dark Water
Moody ghost story about a divorced woman (
Jennifer Connelly
) and her daughter (
Ariel Gade
) who move into a creepy apartment building off New York City's East River.
Cast includes Jennifer Connelly, John C. Reilly, Tim Roth, Dougray Scott, Pete Postlethwaite, Camryn Manheim and Ariel Gade.