Source: Syfy
schedulebot
[
NOTE: Syfy schedule subject to change(s)
]
SCIFI MOVIE MARATHON - SYFY: SCHEDULE SATURDAY, JUNE 2, 2012
09:00 AM
Star Runners
Space smugglers transport cargo---a woman with special powers---that puts them at odds with an evil government. Matters get worse when the trio crashes onto a planet inhabited by carnivorous insect creatures.
Cast includes
Star Trek Enterprise's
Connor Trinneer, James Kyson-Lee, Toni Trucks and Aja Evans.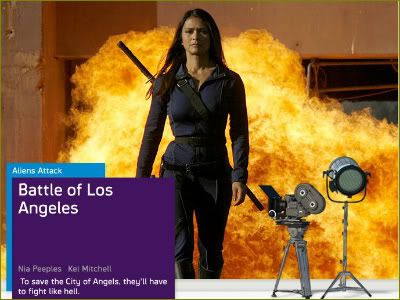 11:00 AM
Battle Of Los Angeles
Alien spacecraft attack Los Angeles in the first wave of an invasion, and humanity's survival depends upon two soldiers who must breach the mother ship and destroy it from within.
Cast includes Nia Peeples, Kel Mitchell, Dylan Vox, Theresa June Tao, Gerald Webb, Edward DeRuiter, Darin Cooper, Robert Pike Daniel and Tim Abell.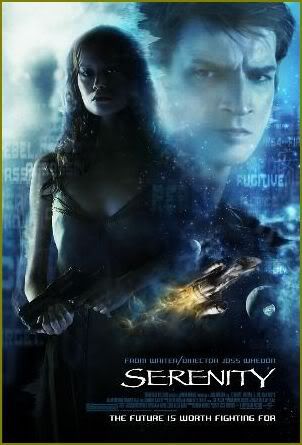 01:00 PM
Serenity
The renegade crew of a space freighter hides a fugitive from a totalitarian regime in writer-director
Joss Whedon's
exciting follow-up to his cult TV series "
Firefly
."
Cast includes
Castle's
Nathan Fillion,
Suits'
Gina Torres,
Suburgatory's
Alan Tudyk,
Homeland's
Morena Baccarin,
Chuck's
Adam Baldwin,
Stargate Atlantis'
Jewel Staite, Sean Maher, Summer Glau, Ron Glass, Chiwetel Ejiofor and David Krumholtz.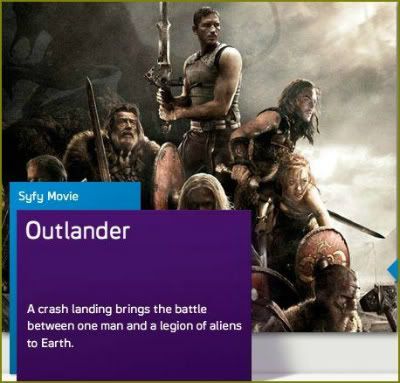 03:30 PM
Outlander
A warrior from space crash-lands into ancient Norway and helps Viking tribes battle a bloodthirsty monster.
Jim Caviezel
stars in this sc-fi adventure fantasy.
Cast includes
Person of Interests'
Jim Caviezel, Sophia Myles, Jack Huston, John Hurt, Cliff Saunders, Patrick Stevenson, Aidan Devine and Ron Perlman.
06:00 PM
Aliens
The long-awaited sequel to the successful
ALIEN
is a nonstop, high-tech, souped-up war movie, with gung ho marines blasting special-effects creatures, and a genuinely convincing, exciting action heroine. Ripley (
Sigourney Weaver
) is found in deep space by a salvage ship and brought back to a space station, where Burke (
Paul Reiser
), a representative of The Company, tells her that she has been unconscious for 57 years. To her horror, Ripley also learns that the planet on which she and her crew found the creature in
ALIEN
has been colonized.
Cast includes Sigourney Weaver, Carrie Henn, Michael Biehn, Paul Reiser, Lance Henriksen, Bill Paxton, Jenette Goldstein, William Hope, Al Matthews and Mark Rolston.
09:00 PM
Alien Vs. Predator
During an archaeological expedition on Bouvetøya Island in Antarctica, a team of archaeologists and other scientists find themselves caught up in a battle between the two legends. Soon, the team realize that only one species can win.
Cast includes Sanaa Lathan, Raoul Bova, Lance Henriksen, Ewen Bremner, Colin Salmon, Tommy Flanagan, Joseph Rye, Agathe de La Boulaye, Carsten Norgaard, Sam Troughton and Andy Lucas.
11:00 PM
Alien: Resurrection
Sigourney Weaver
reprises her role as Ellen Ripley in the "
Alien
" saga's fourth installment. Here she returns from the dead, courtesy of cloning, to battle more beasts.
Cast includes Sigourney Weaver, Winona Ryder, Dominique Pinon, Ron Perlman,
CSI's
Gary Dourdan, Michael Wincott, Kim Flowers, Dan Hedaya, J.E. Freeman, Brad Dourif and
The Closer's
Raymond Cruz.
01:30 AM
Serenity
04:00 AM
Heatstroke
An ex-model teams up with a soldier to thwart aliens who are propelling global warming to make Earth habitable for their species.
Cast includes D.B. Sweeney, Danica McKellar, Chris Cleveland, Kelly Rice and Zac Heileson.