Source: Syfy
schedulebot
[
NOTE: Syfy schedule subject to change(s)
]
NIGHTMARE ON ELM STREET MOVIE MARATHON - SYFY: SCHEDULE SUNDAY, MAY 6, 2012
09:00 AM
Nightmare On Elm Street
Wes Craven's
gory story of teens possessed by a dead killer (
Robert Englund
). In the dreams of his victims, a spectral child murderer stalks the children of the members of the lynch mob that killed him.
Cast includes Robert Englund, John Saxon, Ronee Blakley, Heather Langenkamp, Amanda Wyss, Jsu Garcia, Johnny Depp, Charles Fleischer, Joseph Whipp, Joe Unger and Mimi Craven.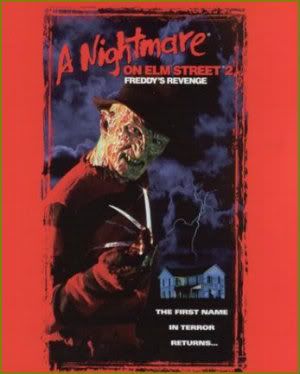 11:00 AM
Nightmare On Elm Street 2: Freddy's Revenge
A teenage boy is haunted in his dreams by Freddy Krueger who is out to possess him to continue his murdering in the real world.
Cast includes Robert Englund, Mark Patton, Kim Myers, Robert Rusler, Clu Gulager, Hope Lange, Marshall Bell, Melinda O. Fee, Tom McFadden, Sydney Walsh, Brian Wimmer, Kimberly Lynn and Jonathan Hart.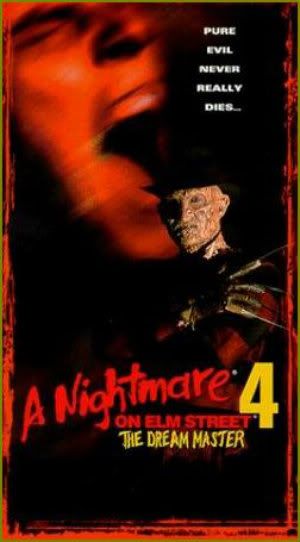 01:00 PM
Nightmare On Elm Street 4: The Dream Master
When a teen (
Lisa Wilcox
) tries to revenge the deaths of her friends, Freddy's ready. Freddy Krueger returns once again to terrorize the dreams of the remaining Dream Warriors, as well as those of a young woman who may know the way to defeat him for good.
Cast includes Robert Englund, Lisa Wilcox, Andras Jones, Danny Hassel, Rodney Eastman, Tuesday Knight, Ken Sagoes, Brooke Bundy, Nicholas Mele, Toy Newkirk, Brooke Theiss and Jacquelyn Masche.
03:00 PM
Nightmare On Elm Street 5: The Dream Child
A teen's unborn baby is possessed by Freddy (
Robert Englund
). Alice (
Lisa Wilcox
), having survived the previous installment of the Nightmare series, finds the deadly dreams of Freddy Krueger starting once again.
Cast includes Robert Englund, Lisa Wilcox, Kelly Jo Minter, Danny Hassel, Erika Anderson, Nicholas Mele, Joe Seely, Valorie Armstrong, Burr DeBenning, Clarence Felder, Beatrice Boepple, Matthew Borlenghi, Beth DePatie and Steven Grives.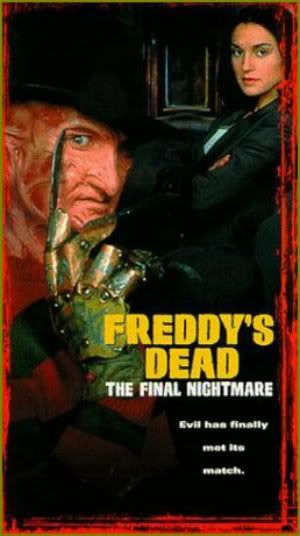 05:00 PM
Freddy's Dead: The Final Nightmare
Elm Street's sadistic sandman (
Robert Englund
) encounters his long-lost daughter (
Lisa Zane
).
Cast includes Robert Englund, Lisa Zane, Shon Greenblatt, Lezlie Deane, Ricky Dean Logan, Breckin Meyer, Yaphet Kotto, Tom Arnold, Roseanne, Elinor Donahue, Johnny Depp, David Dunard, Marilyn Rockafellow and Lindsey Fields.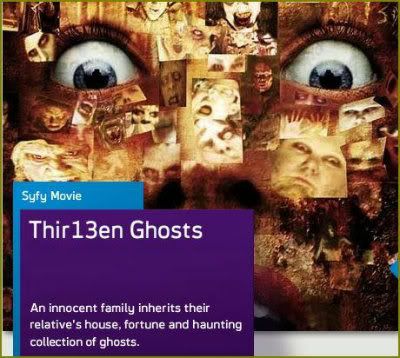 07:00 PM
Thir13en Ghosts
Remake of
William Castle's
1960 horror film about family members who have inherited a house, complete with trapped ghosts that are dying to get out.
Cast includes Tony Shalhoub, Embeth Davidtz, Matthew Lillard, Shannon Elizabeth, Alec Roberts, JR Bourne, Rah Digga and F. Murray Abraham.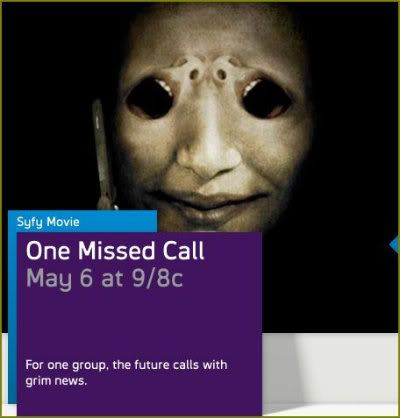 09:00 PM
One Missed Call
Victims receive cell-phone messages containing a recording of themselves in their dying moments---and three days later, they die horrible deaths.
Cast includes Shannyn Sossamon, Edward Burns, Ana Claudia Talancón, Ray Wise, Azura Skye, Johnny Lewis, Jason Beghe, Margaret Cho and Meagan Good.
11:00 PM
The Cave
Nasty serpents terrorize a dive team exploring underwater caverns in this torpid "
Alien
" rip-off.
Cast includes Cole Hauser,
CSI: Miami's
Eddie Cibrian,
American Horror Story's
Morris Chestnut,
Game of Thrones'
Lena Headey,
Covert Affair's
Piper Perabo, Rick Ravanello and
Hawaii Five-0's
Daniel Dae Kim.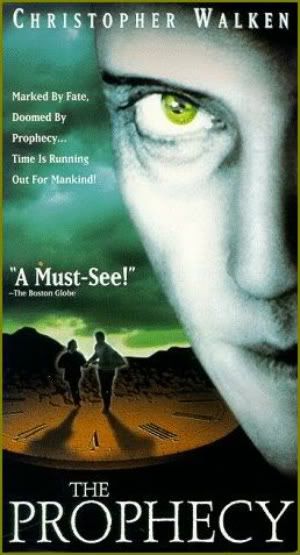 01:00 AM
The Prophecy
Angered that God gave souls to humans, Gabriel (
Christopher Walken
) leads an army of evil angels to raise hell on Earth.
Cast includes Christopher Walken, Elias Koteas, Virginia Madsen, Eric Stoltz, Viggo Mortensen, Amanda Plummer, Moriah 'Shining Dove' Snyder and Adam Goldberg.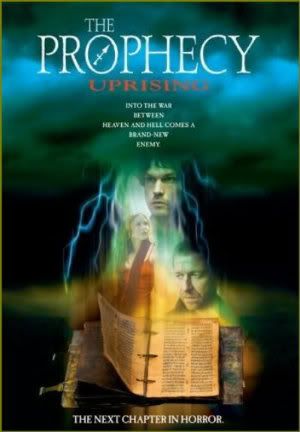 03:00 AM
Prophecy: The Uprising
A woman must protect an ancient manuscript from renegade angels.
Cast includes John Light, Sean Pertwee, Kari Wuhrer, Jason London, Doug Bradley, Georgina Rylance and Stephen Billington.