STARGATE TV SCHEDULE WEEK MARCH 19, 2012:
[NOTE: High Definition channels not listed on this schedule. Please confirm with your local listings for correct times.]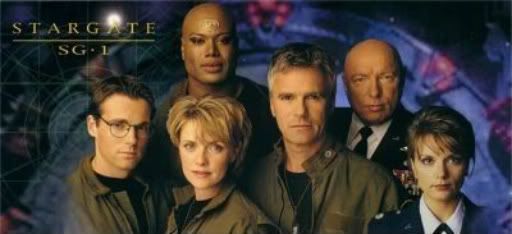 STARGATE SG-1
Stargate SG-1 season one cast includes Richard Dean Anderson, Amanda Tapping, Christopher Judge, Michael Shanks and Don S. Davis.
SYFY
Tue. Mar. 20 2:00 AM
The Nox
O'Neill (
Richard Dean Anderson
) and the team are sent to a planet in search of mysterious beings that have the power to disappear.
Guest stars include Armin Shimerman, Peter Williams, Ray Xifo, Frida Betrani, Terry David Mulligan, Addison Ridge, Michasha Armstrong and Zoran Vukelic.
Wed. Mar. 21 2:00 AM
Brief Candle
A deadly virus afflicting a planet's inhabitants may have been created by the Goa'ulds.
Guest stars include Bobbie Phillips, Teryl Rothery, Harrison Coe and Gabrielle Miller.
Thur. Mar. 22 2:00 AM
Thor's Hammer
O'Neill (
Richard Dean Anderson
) and Teal'c (
Christopher Judge
) find themselves imprisoned on a planet ruled by an enemy of the Goa'uld.
Guest stars include Galyn Görg, Vincent Hammond, Tamsin Kelsey, James Earl Jones (as the voice of the Unas) and Mark Gibbon.

STARGATE ATLANTIS
Cast includes Joe Flanigan, David Hewlett, Rainbow Sun Francks, Rachell Luttrell, Torri Higginson, Paul McGillion, Jason Momoa, David Nykl, Robert Picardo and Amanda Tapping.
[
NOTE: Stargate Atlantis returns to Syfy's schedule (encores) beginning Monday, April 16, 2011.
]
UHD
Mon. Mar. 19 5:00 PM
Inquisition
Mon. Mar. 19 8:30 PM
Inquisition
Sheppard's (
Joe Flanigan
) team is seized and detained by an interplanetary council that wants to try them for crimes against the people of the Pegasus Galaxy, prompting Woolsey (
Robert Picardo
) to intervene.
Guest stars include
Eureka's
Kavan Smith, Alan Blumenfeld, David Lovgren, Tobias Slezak and Kaaren de Zilva.
Cast includes Robert Carlyle, Louis Ferreira, Brian J. Smith, Elyse Levesque, David Blue, Alaina Huffman, Jamil Walker Smith, Peter Kelamis, Patrick Gilmore, Julia Benson, Jennifer Spence, Ming-Na and Lou Diamond Phillips.
SYFY
Fri. Mar. 23 5:00 AM
Water
The ship's water supply dwindles, prompting Col. Young (
Louis Ferreira
) and Lt. Scott (
Brian J. Smith
) to visit a frozen planet in search of drinkable samples. Meanwhile, the crew attempts to snare an intruder.
Guest stars include Mark Burgess, Haig Sutherland, Josh Blacker and Andrew Dunbar.
Sat. Mar. 24 5:00 AM
Earth
Lt. General O'Neill (
Richard Dean Anderson
) wants Col. Young (
Louis Ferreira
) to implement a high-risk plan hatched by IOA scientists that could possibly return the Destiny crew to Earth. Elsewhere, Eli (
David Blue
) and Chloe (
Elyse Levesque
) use the communication stones to visit their loved ones, culminating in a trip to a club.
Guest stars include Carlo Rota, Ona Grauer, Anna Galvin, Ryan Kennedy,
Longmire's
Lou Diamond Phillips,
Stargate SG-1's
Richard Dean Anderson, Janelle Monae, Haig Sutherland, Glynis Davies, Mar Andersons, Alana Husband, Sarah Mutch, Carlo Marks, Raquel Riskin and Kerry James.
SYNDICATED
Weekend
March 24/25 in Syndication (check your local listings for channel, date and time) -
Twin Destinies
Eli (
David Blue
) may have found a way home, but Rush (
Robert Carlyle
) believes the plan could go catastrophically wrong. After experts on Earth decide in favor of Eli's plan, Rush announces his intention to remain on the ship and calls for volunteers to stay with him.
Guest stars include Mike Dopud, Bill Dow, Lou Diamond Phillips, Jeffrey Bowyer-Chapman and Michael Karl Richards.