Source:
TV Guide
[follow link for companion article]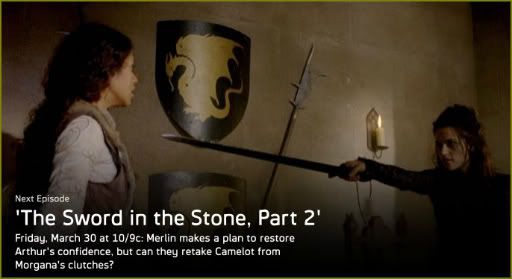 TV GUIDE: Exclusive Video: Excalibur Revealed in the Merlin Season Finale
Mar 28, 2012
by
Rich Sands
The battle to reclaim Camelot highlights Friday's season finale of
Merlin
(10/9c, Syfy). The episode features daring rescues, a rekindled romance and at least one valiant death. But perhaps the most significant moment is the introduction of an iconic element of the Camelot mythos — the legendary sword Excalibur...
Merlin (
Colin Morgan
) summons the dragon to vanquish the pursuers and uses his magic to kill Agravaine (
Nathaniel Parker
).
Guest stars include Nathaniel Parker, Ben Daniels, Miranda Raison, Adetomiwa Edun, Eoin Macken, Rupert Young, Tom Hopper and Terence Maynard.