Source: Encore Western Channel
schedulebot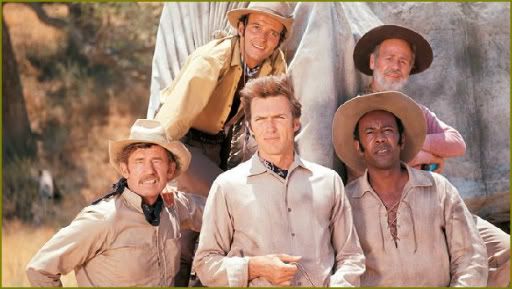 Steve Raines, Clint Eastwood, Raymond St. Jacques, James Murdock and Paul Brinegar
RAWHIDE - ENCORE WESTERN CHANNEL: SCHEDULE WEEK OF MARCH 5, 2012
Cast includes Eric Fleming, Clint Eastwood, Paul Brinegar, Steve Raines, James Murdock, Rocky Shahan, Robert Cabal, Sheb Wooley, Charles H. Gray and William R. Thompkins.
Trail boss Gil Favor (
Eric Fleming
) is in charge of a continuous cattle drive along with his right hand, Rowdy Yates (
Clint Eastwood
). The crew runs into various characters and adventures along the way.
Mon. Mar. 5 5:00 PM
Incident of the Blue Spy
Civil War hostilities are rekindled when a beautiful former Union spy takes shelter at the camp.
Guest stars include Phyllis Thaxter, Lyle Bettger, Charles Aidman, George Wallace, Harry Lauter, John Cole, Regis Parton and Guy Cain.
Tue. Mar. 6 5:00 PM
Incident of the Gentleman's Gentleman
Pomp and circumstance become the order of the day when a dismayed Favor (
Eric Fleming
) inherits the services of an English valet (
Brian Aherne
).
Guest stars include John Sutton, Richard Shannon, Russell Thorson, Sheila Bromley, Kathryn Card, Don C. Harvey,
The Lone Ranger's
Jay Silverheels, John Hart, Paul Barselou and
The High Chaparral's
Mark Slade.
Wed. Mar. 7 5:00 PM
The Captain's Wife
The Big Valley's
Barbara Stanwyck
as an Army captain's wife whose efforts to further her husband's career could prove fatal for the cattlemen.
Guest stars include Barbara Stanwyck, John Howard, Robert Lowery, Nestor Paiva, Eugene Mazzola, Dennis Cross, Don C. Harvey and Bill Walker.
Thur. Mar. 8 5:00 PM
Incident of the Boss's Daughters
Favor's (
Eric Fleming
) problems are multiplying: a fence is blocking the herd and his Eastern-bred daughters (
Barbara Beaird
and
Candy Moore
) are to join him on the trail.
Guest stars include Paul Richards, Dorothy Green, Candy Moore, Barbara Beaird, Byron Morrow and Harry Fleer.
Fri. Mar. 9 5:00 PM
Incident of the Peddler
Shelley Berman
portrays a walking good-luck charm trying---with little success---to drive a small, bony herd to market.
Guest stars include Shelley Berman, Vitina Marcus,
The Blue Knight's
George Kennedy, William Tannen and Hal John Norman.
Sat. Mar. 10 11:00 AM
Incident of the Coyote Weed
A band of Mexican bandits send a spy to join the cattle drive and poison the drovers with coyote weed so they can swoop in and steal the herd.
Guest stars include
Combat's
Rick Jason, Buzz Martin, James Gavin, Kem Dibbs and Garry Walberg.