Source:
Syfy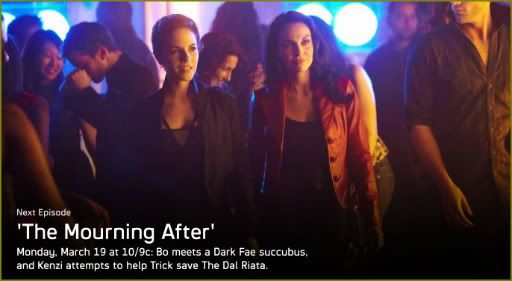 LOST GIRL - SYFY VIDEO: 'MOURNING AFTER' SNEAK PEEK - AIRS MONDAY, MARCH 19, 2012 AT 10/9C
Watch a sneak peek of the next all-new episode of Lost Girl. Monday at 10/9c.
While investigating a baffling sex-related murder case, Bo (
Anna Silk
) comes into contact with Saskia (
Inga Cadranel
), a strong, sensuous Succubus who has much to teach her. The two become fast friends, but as they work together to solve the case Saskia reveals her true dark Fae colours, which tests the limits of this new found friendship... and Bo's own inner bad girl.
Guest stars include Inga Cadranel, Arnold Pinnock, Jordan Prentice, Natalie Lisinska, Abena Malika, Lee Rumohr, Sabrina Campbell and Robin Cunningham.