Source: Syfy
schedulebot
HORROR MOVIE MARATHON - SYFY: SCHEDULE MONDAY, FEBRUARY 13, 2012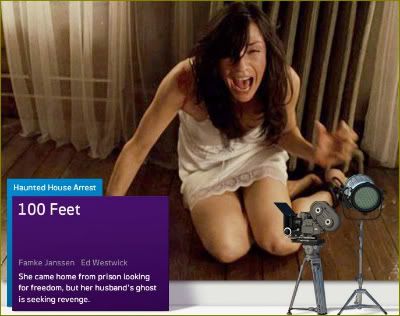 08:30 AM
100 Feet
Famke Janssen
stars in this haunted-house tale about a woman who is sentenced to house arrest after she killed her abusive spouse in self-defense. Written and directed by
Eric Red
.
Cast includes Famke Janssen, Bobby Cannavale, Ed Westwick, Michael Paré, Patricia Charbonneau and John Fallon.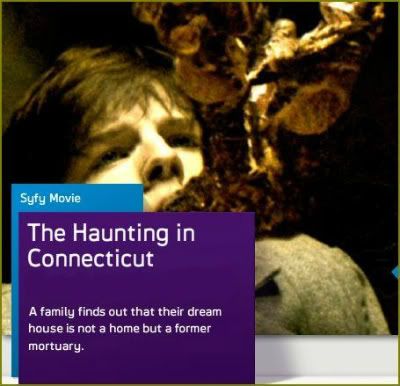 10:30 AM
The Haunting In Connecticut
When a family moves into a converted funeral home and falls under supernatural attack, desperate mother Sarah (
Virginia Madsen
) struggles to free her family from the grip of evil. Sarah and Peter Campbell have just moved to Connecticut with their young son Matt. When a malevolent otherworldly force begins to take control of the family, an enigmatic priest intervenes.
Cast includes Virginia Madsen, Kyle Gallner, Elias Koteas, Ty Wood, Martin Donovan, Sophi Knight, Amanda Crew, Erik J. Berg and John Bluethner.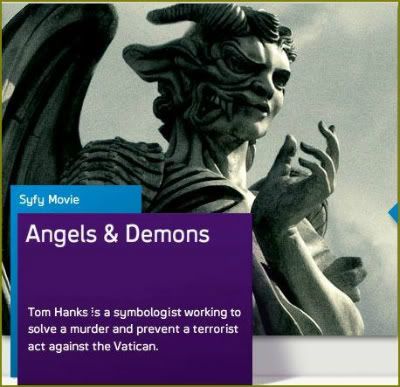 12:30 PM
Angels & Demons
Tom Hanks
returns to the role of Robert Langdon in this sequel to "The Da Vinci Code." Langdon uncovers the existence of the Illuminati, a secret sect thought to be defunct that plans to destroy the Catholic Church. Langdon joins forces with an Italian scientist (
Ayelet Zurer
) on a globe-trotting quest to stop the plan before it can come to fruition. Directed by
Ron Howard
.
Cast includes Tom Hanks, Ewan McGregor, Ayelet Zurer, Stellan Skarsgård, Pierfrancesco Favino, Nikolaj Lie Kaas and Armin Mueller-Stahl
03:30 PM
End Of Days
At the end of the century, Satan visits New York in search of a bride. It's up to an ex-cop who now runs an elite security outfit to stop him.
Cast includes Arnold Schwarzenegger, Gabriel Byrne,
The Mentalist's
Robin Tunney, Kevin Pollak,
Warehouse 13's
CCH Pounder, Derrick O'Connor, David Weisenberg and Victor Varnado.