STARGATE TV SCHEDULE WEEK JANUARY 2, 2012:
[NOTE: High Definition channels not listed on this schedule. Please confirm with your local listings for correct times.]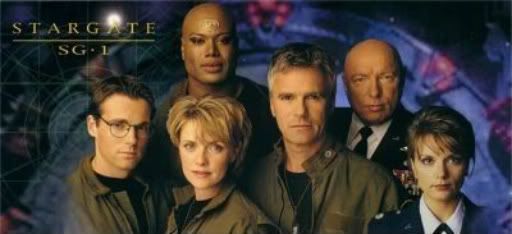 Cast includes Richard Dean Anderson, Amanda Tapping, Christopher Judge, Michael Shanks, Don S. Davis and Teryl Rothery
SYFY
Tue. Jan. 3 2:00 AM
Threads
Hovering between life and death, Daniel mulls returning to an ascended state after encountering Oma Desala (
Mel Harris
) at a celestial diner. Meanwhile, Carter introduces her fiancé (
David DeLuise
) to her dad; Teal'c and Bra'tak are honored by a Jaffa priest (
Isaac Hayes
); and O'Neill hits it off with a sexy CIA agent (
Clare Carey
).
Guest stars include Carmen Argenziano, Tony Amendola, David DeLuise, Clare Carey, Cliff Simon, Isaac Hayes, Mel Harris and George Dzundza.
Wed. Jan. 4 3:30 AM
The Ties That Bind
Daniel discovers the only way he and Vala (
Claudia Black
) can free themselves from the bondage of the Jaffa bracelets is if she returns a collection of stolen loot she's already fenced. Meanwhile, Gen. Landry (Beau Bridges) learns that Congress is planning to slash the Stargate budget.
Guest stars include Bruce Gray, Bill Dow, Wallace Shawn, Lexa Doig, Malcolm Scott, Michael P. Northey, Morris Chapdelaine, Eileen Pedde, Darren Moore and Geoff Redknap.
JANUARY 5 - SEASON 7 MARATHON SCHEDULE
Fri. Jan. 6 5:00 AM
The Powers That Be
Waiting for the effects of the Jaffa bracelets to subside, Vala looks to kill time by taking Daniel to a planet where she acts as a god. But her scam could get them both killed when an Ori cleric discredits her.
Guest stars include Camyar Chai, Pablo Coffey, Lexa Doig and Greg Anderson.
Fri. Jan. 6 11:00 PM
Beachhead
Samantha Carter rejoins SG-1 to help rid a Jaffa planet of an Ori force field using an experimental bomb---the Mark IX---but its detonation backfires on the team.
Guest stars include Barclay Hope, Maury Chaykin, Louis Gossett Jr., Ian Butcher, Martin Christopher, Donald Adams, Eileen Barrett and Dan Shea.
Sat. Jan. 7 1:00 AM
Ex Deus Machina
SG-1 suspects the Goa'uld are involved when it links the disappearance of several leading CEOs to the Trust; Gerak's (
Louis Gossett Jr.
) isolationist views create tensions with Stargate Command.
Guest stars include Cliff Simon, Kendall Cross, Barclay Hope, Peter Flemming, Sonya Salomaa, Chilton Crane, Louis Gossett Jr., Gardiner Millar, Simone Bailly, Martin Christopher, Ken Dresen, David MacInnis and Kevin Blatch.

STARGATE ATLANTIS
Cast includes Joe Flanigan, David Hewlett, Rainbow Sun Francks, Rachell Luttrell, Torri Higginson, Paul McGillion, Jason Momoa, David Nykl, Robert Picardo and Amanda Tapping.
UHD
Mon. Jan. 2 5:00 PM
The Daedalus Variations
Mon. Jan. 2 8:30 PM
The Daedalus Variations
The team becomes trapped on a runaway duplicate of the Daedalus, which takes them to numerous alternate realities.
Guest stars include Kavan Smith, David Nykl, Tracy Waterhouse and Annalise MacCulloch.
SYFY
Sat. Jan. 7 5:00 AM
Childhood's End
Members of the team must make an emergency landing on a planet populated entirely by young people who willingly die in a mystic rite to protect their civilization from the Wraith.
Guest stars include Courtenay J. Stevens, Dominic Zamprogna, Sam Charles, Jessica Amlee, Shane Meier, Julie Patzwald and Calum Worthy.
SYNDICATED
Weekend
January 7/8 in Syndication (check your local listings for channel, date and time) -
The Brotherhood
The team arrives on the planet Dagan, where the natives assist their search for the Potentia---a module that could power Atlantis, including a shield that protects the city from the Wraith---but their mission is obstructed by the Daganite agenda. McKay, meanwhile, is puzzled by a local woman's attention.
Guest stars include Robert Davi, Jana Mitsoula, Paul McGillion, Adrian Hough,
Alphas'
Laura Mennell, David Nykl, Dean Marshall, Chuck Campbell, Graham Andrews, John Tierney, Simon Longmore and Boyan Vukelic.
Cast includes Robert Carlyle, Louis Ferreira, Brian J. Smith, Elyse Levesque, David Blue, Alaina Huffman, Jamil Walker Smith, Peter Kelamis, Patrick Gilmore, Julia Benson, Jennifer Spence, Ming-Na and Lou Diamond Phillips.
SYNDICATED
Weekend
January 7/8 in Syndication (check your local listings for channel, date and time) -
The Greater Good
Col. Young and Dr. Rush don spacesuits to board a derelict ship, and pent-up frustrations are unleashed when things go awry.
Guest stars include Julie McNiven, Robert Knepper, Kathleen Munroe, Leanne Adachi and Darcy Laurie.